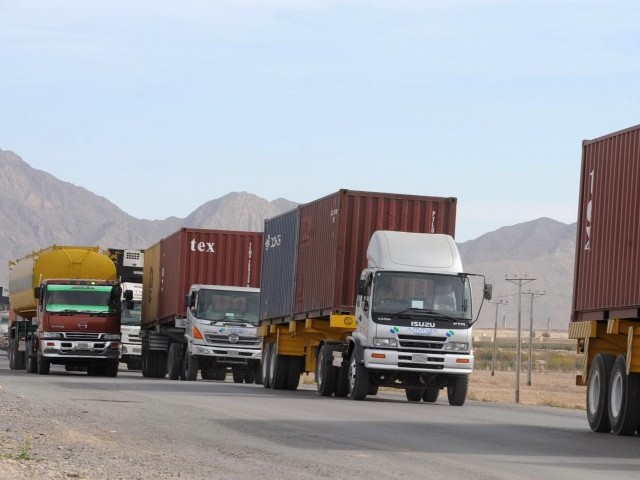 ---
LAHORE:
The tyre manufacturing industry has urged the government to withdraw its decision of discontinuing the stamping of goods in transit to Afghanistan at Karachi Port and Port Qasim.
The decision would hurt the domestic industry and reverse all the efforts made to curb smuggling, it said. The General Tyre and Rubber Company spokesman said on Tuesday the move would encourage more smuggling and would make it easy the pilferage of transit goods in the country. He stressed that stamping must be mandatory for goods in transit to Afghanistan. "Without stamping, goods will again find their way into the country and ultimately will weaken our industrial base, resulting in billions of rupees in revenue loss to the government."
Moreover, he said, stamping was helpful in identifying the goods brought under the guise of Afghan transit trade (ATT), which were either offloaded in Karachi or came back from the Afghan border through smuggling. Along with other measures, stamping was a good strategy adopted by the customs department that must be carried on, he emphasised.
"It is unfortunate that the government of Pakistan Directorate-General of Transit Trade Customs House, Karachi, vide its office order No 49/ 2020-Estt-(DTT) dated 07.10.2020, has announced that stamping of goods in transit to Afghanistan is discontinued at Karachi Port and Port Qasim," said the spokesman.
In the other office order No 50/ 2020-Estt-(DTT) dated 07.10.2020, it announced that the scanning of Afghan transit cargo at Karachi Port and Port Qasim would be carried out as per Rule 473 of SRO 121(1)/2014 dated 24.02.2014, he added.
"The biggest problem for the local tyre industry has been smuggling," he lamented.
The spokesman said almost 20% of the country's demand was met through imports while 65% of the tyre demand was covered through smuggling. On the other hand, he added, the domestic industry was generating employment and tax revenue for the government as well as saving millions of dollars in import bill.
"Smuggling is also hurting other local industries as many have either shut down or have shifted due to smuggling," he pointed out.
"General Tyre is also suffering due to smuggling, mis-declaration and ATT," he said. "We request the government to mull over the decision and revert to the previous condition. Stamping of goods in transit to Afghanistan will strengthen local industries and create more job opportunities in the country."
Published in The Express Tribune, October 14th, 2020.
Like Business on Facebook, follow @TribuneBiz on Twitter to stay informed and join in the conversation.
COMMENTS
Comments are moderated and generally will be posted if they are on-topic and not abusive.
For more information, please see our Comments FAQ