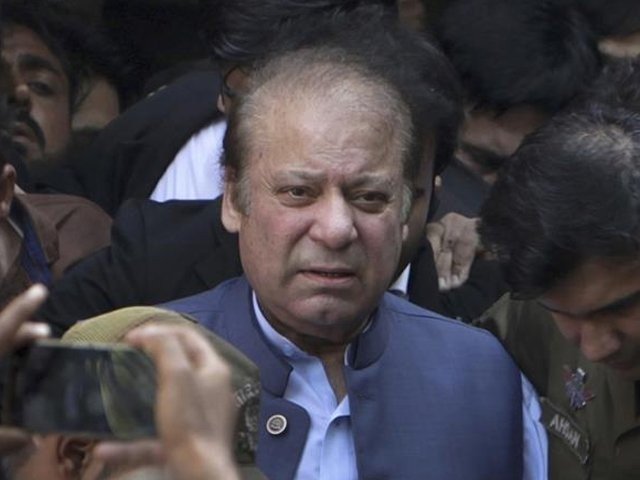 ---
ISLAMABAD:
The federal government on Friday submitted expenses for newspaper advertisements to summon former prime minister Nawaz Sharif before the Islamabad High Court's (IHC's) in the Al-Azizia and Avenfield references.
The PML-N supremo was declared a proclaimed offender earlier in September and had refused multiple times to receive the arrest warrants issued in his name. The arrest warrants were sent twice by-hand and once via Britain's Royal Mail.
The IHC had instructed that if Nawaz Sharif does not appear within 30 days after the advertisement was published, then he would be declared an absconder. An advertisement would also be pasted on Nawaz's residence in London.
According to Express, the additional attorney general (AAG) deposited Rs60,000 in the IHC's registrar's office. The AAG wrote a letter to the court regarding the payment, referring to the October 7 order.
Earlier, Pakistan High Commission in London submitted their statement on the execution of non-bailable arrest warrants for the convicted former premier.
During the hearing, First Secretary Pakistan High Commission London Dildar Ali Abro's statement said that a secretary of one of Nawaz's son, Waqar Ahmed, told him that he would receive Nawaz's arrest warrants at former primer's current residence in Park Lane.
Abro further said that he apprised the High Commission about the discussion with Ahmed regarding the execution of warrants and sought permission to execute them at the given address.
"After the approval from the authorities concerned, Ahmed had agreed to receive the arrest warrants on September 23 at 11:00 am (BST)," Abro said. "At 10:20 am, Waqar called me and refused to receive the warrants."
Consul Attaché Pakistan High Commission London Rao Abdul Hanan said in his statement that he went to Nawaz Sharif's residence to enforce the non-bailable arrest warrants on September 17 at 6:35 pm [BST].
"Nawaz Sharif's personal employee, Muhammad Yaqub, refused to receive the arrest warrants thus they could not be executed."
Foreign Ministry Director Europe Mubashir Khan also recorded his statement wherein he said that he has copies of Nawaz's arrest warrants.
"The court issued non-bailable arrest warrants for Nawaz Sharif in two appeals," he said. "Arrest warrants were received by post which was sent in a diplomatic bag with a cover letter. Receipt and delivery of mail were registered in the register book."
COMMENTS
Comments are moderated and generally will be posted if they are on-topic and not abusive.
For more information, please see our Comments FAQ