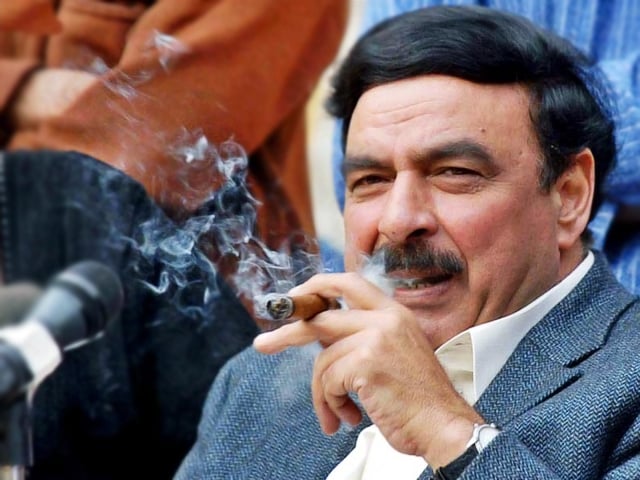 ---
KARACHI:
The rancorous verbal duel between government ministers and opposition politicians is turning uglier by the day with both sides branding each other "traitor" amid taunts, jeers and spiteful comments.
Railways Minister Sheikh Rashid Ahmed, who is leading the government onslaught, fired a fresh salvo against the beleaguered Sharif family on Monday asking its "absconding" patriarch to answer "three questions" if he has nothing to hide.
Firstly, why did Maryam Safdar, the political heir apparent of Nawaz Sharif and staunch promoter of his hawkish narrative in the PML-N, keep silent for 10 months?
Maryam, who had been extremely vocal on Twitter against the government, suddenly relented late last year after the Sharif family requested the government to allow its "ailing" jailed patriarch to fly abroad for treatment of his mystery illness.
According to Rashid, she stayed silent on Twitter because she thought this would help her obtain permission from the government to be with her "ailing" father in London. She had formally filed a request for this purpose which was turned down.
Secondly, the railways minister asked Sharif if he had confided in anyone about his secret meeting with Indian prime minister Narendra Modi in the Nepalese capital of Kathmandu?
This is not the first time government officials have accused Sharif of promoting family businesses in India at the cost of national interest.
On Saturday, PM's political aide Shahbaz Gill also said that Sharif had not allowed Pakistan's foreign ministry officials to attend his secret meeting with Modi in Kathmandu. He added that the government was also aware of Sharif's recent meetings inside the embassy of another country in London.
Thirdly, Rashid reminded Sharif how he himself was on the forefront against Asif Zardari, the then president, in a 2011 scandal that came to be known as "Memogate" in the chequered political history of Pakistan.
The scandal revolves around a memo (addressed to US Admiral Mike Mullen and allegedly written by then Pakistani ambassador Hussain Haqqani) apparently seeking help of the Obama administration in the wake of the Osama bin Laden raid to avert a military takeover of the civilian government in Pakistan.
Key opposition figures are embroiled in a slew of corruption cases.
Rashid claimed the opposition was going for street agitation in an effort to coerce the government into dropping these charges.
"Prime Minister Imran Khan would rather dissolve the assemblies than give an 'NRO' to any corrupt politician," Rashid said emphatically while referring to the National Reconciliation Ordinance, a controversial law introduced by former military ruler Pervez Musharraf to drop hundreds of cases against political leaders.
Prime Minister Imran has made a commitment that he would not allow corrupt politicians who have looted the nation's money to get away with their loot and plunder, said Rashid.
He further said that the October 18 protest by the newly formed opposition alliance, Pakistan Democratic Movement (PDM), posed no threat to the government. "The PTI-led government would serve out its five-year constitutional term because PM Imran is an honest and upright person," he added.
Rashid said the PDM was beset with divisions and mutual mistrust and hence unable to put up a united front. The PPP would never give up the Sindh government if the PDM decided to resign en masse from the assemblies, he added.
A recent statement of a senior PML-N leader lends credence to Rashid's claim. Last week Khawaja Asif said in a television interview that he still could not trust Asif Zardari. "Khawaja Asif made the remarks against me at someone's behest in an attempt to create rifts within the opposition," Zardari hit back earlier today.
Zardari would not explain who he meant by "someone", but this points to the latent distrust behind the veneer of unity in the opposition ranks.
Rashid also repeated his prediction using symbolism and metaphors that "S" would emerge from "N", meaning that the PML-N would split and another eponymous faction led by Shehbaz Sharif would come into being.
COMMENTS
Comments are moderated and generally will be posted if they are on-topic and not abusive.
For more information, please see our Comments FAQ