 ---
Anushka Sharma will not be getting behind the glorification of wanting/having a male child, as the star let it out on her Instagram story on Friday.
In light of the recent horrific rape cases that have come out from the Indian cities of Hathras and Balrampur, the Sultan actor took to Instagram to slam the 'privilege' of having a male child, calling it "myopic." She wrote, "In our society, having a male child is seen as a 'privilege'. Of course, it's no more privilege than having a girl child but the fact is that this so-called privilege has been viewed incorrectly and with an extremely myopic vision."
According to the PK star, the only privilege that one has is "the opportunity to raise a boy in a way that he respects a girl." She termed this the duty of the parents as active members of society. "So don't think of it as a privilege," Sharma added, tersely.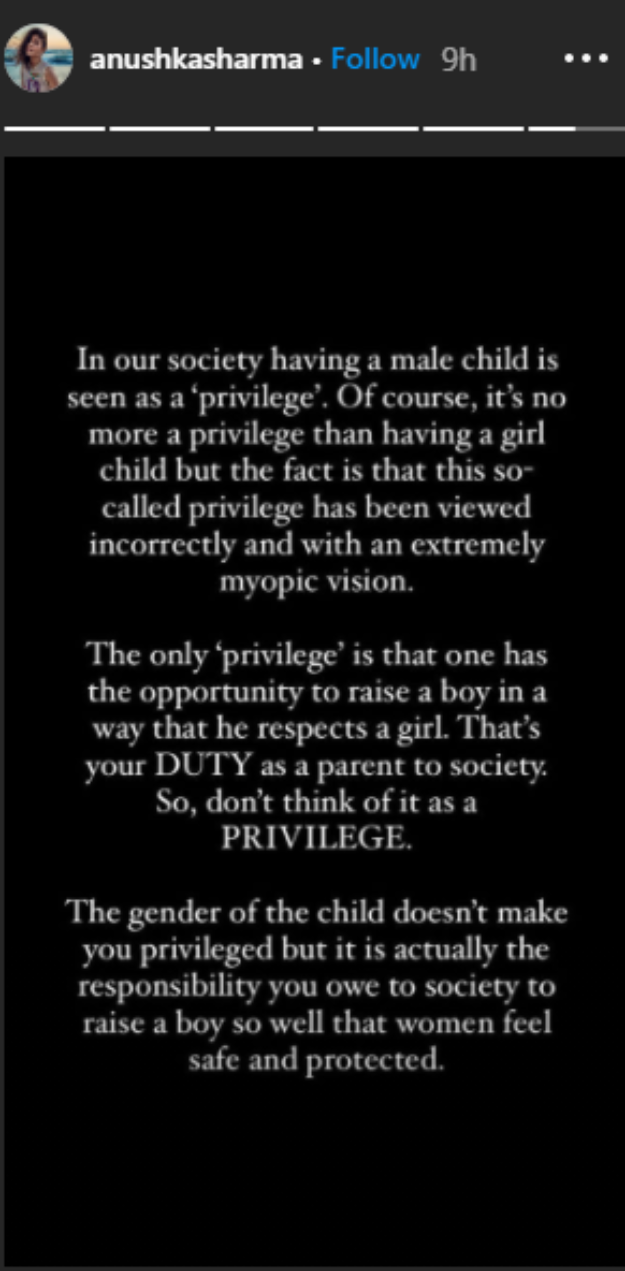 The starlet went on to reiterate the same point, drilling home the need to cultivate safe spaces for girls in society. "The gender of the child doesn't make you privileged but it is actually the responsibility you owe to society to raise a boy so well that women feel safe and protected."
The Bollywood diva condemned the terrifying rape cases in Hathras and Balrampur as well. "Barely any time has passed and we are hearing of another brutal rape?" she questioned. "In which world do such monsters think they can do this to a young life? This is beyond comprehension; so distressing! Is there any fear in the minds of such men? How do we as a society put fear in them and protect our women? #NoMercyForRapists," Sharma tweeted earlier.
The actor/director routinely shares her views about issues in society, through social media as well as her artistic endeavours. Currently, for those who may have missed the happy news, Sharma is also pregnant with her first child with her husband, Indian cricket captain Virat Kohli.
The couple broke the news late in August with a sweet photo of Sharma flaunting her baby bump while husband Kohli beamed on. "And then, we were three! Arriving in Jan 2021!" the Band Bajaa Baraat star captioned the image.
Sometime earlier, Kohli also shared his views on parenthood. "Everything in life is transient. It will end one day. I have a life. I have a family. I will have kids. They deserve all my time. That is something that is very, very clear, and close to my heart," he had said. "I want no part of my career being flashed into my house. I want no part of my trophies, my achievements… nothing in my house when our kids are growing up," he had added.
Have something to add to the story? Share it in the comments below
COMMENTS
Comments are moderated and generally will be posted if they are on-topic and not abusive.
For more information, please see our Comments FAQ