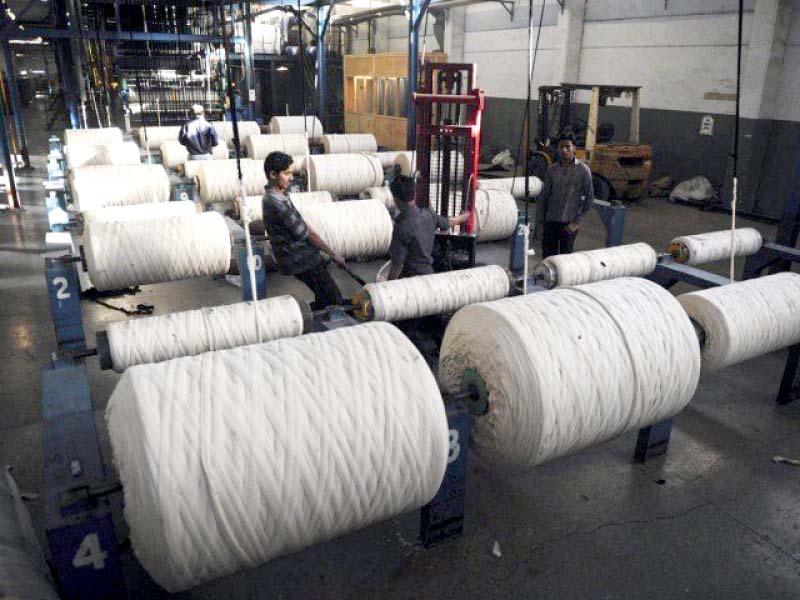 ---
BEIJING:
Both as textile powerhouses, are China and Pakistan competitive or complementary to each other? What are the uses of different textile materials in Pakistan?
At the 2020 China Textile Joint Exhibition held by China National Textile and Apparel Council (CNTAC), reporters from China Economic Net interviewed several exhibitors, who have had years of business dealings with Pakistan.
Pakistan-made coarse yarn delivers good value for money as its advantage in cotton fibre overcomes the weakness of coarse yarn production in China's cotton mills, said Ke Jiangwei, General Manager of Xiamen Naseem Trade Co Ltd, a Pakistani company registered in China, which has imported yarn from Pakistan for many years.
"Pakistan mainly produces sirospun and ringspun yarn among others. Sirospun of 6s yarn, 7s yarn, 8s yarn, 10s yarn, 12s yarn and 16s yarn are very popular in China, as they are suitable for making denim."
However, Pakistan produces fewer 40s, 50s and 60s yarns than China does, said Yang Bin, Chairman of Foshan Seazon Textiles and Garment Co Ltd.
Haian Jinhong Chemical Fibre Co Ltd has been doing business with Pakistan for 15 years, according to Zheng Peipei, the company's General Manager.
"Pakistani buyers mainly purchase yarn, nylon and polyester. Specifically, high-count yarns are used for making fabrics and socks; fishing lines are exported to Karachi for fishing nets; skeins are dyed and made into sewing threads before being sold to local factories for making shoes, bags and suitcases," said Zheng.
"We produce a steady supply of quality goods and export them directly to Pakistan at a price that is at least 10% lower than the market average. That is exactly what the Pakistani market needs."
A one-on-one counselling session was specially initiated by the CNTAC to match Chinese exhibitors with potential buyers. Many Chinese exhibitors had face-to-face communication with Pakistani buyers.
"I just talked to a Pakistani buyer and he said that their socks are imported from China," said Ke, Head of Import and Export Department of Shanghai Eiko Textile Co Ltd.
Is there any competition between China and Pakistan in the sock manufacturing industry? Ke replied that socks made in China and Pakistan are different.
"There are big customers who have been purchasing from both us and Pakistan. Pakistani products are predominantly coarse woven, while Chinese products are largely made of chemical fibre."
Viscose staple fibre
"We mainly produce viscose staple fibre with annual production capacity of 200,000 tons, of which about 1,000 tons are exported to Pakistan per month. We spin yarns into materials and most of them are exported to Europe and America. Our products are used to make denim, knitted underwear and also robes for local people," Xu Leilei, a member of the sales department in CHTC Helon (Weifang) New Materials Co Ltd, said in an interview with China Economic Net.
Are there any Pakistani producers alike? "Till now, there is no viscose plant in Pakistan. China is producing 80-90% of the world's total, with Thailand, Malaysia, etc taking up a minor share," said Xu.
When it comes to cooperation with Pakistan, Zhou Feiyan, Manager of the Marketing Department in LDZ New Aoshen Spandex Co Ltd, said, "We complement each other in the market. Pakistan's textile market is dominated by denim, a machine-woven fabric based on the core-spun yarn, which is made of covered spandex, so spandex becomes a necessity. As there is no domestic manufacturer, Pakistan imports spandex mainly from China, and also from Vietnam and Turkey.
"Our products are welcome in Pakistan because they are characterised by high cost effectiveness, elasticity and resilience, which are prerequisites for the manufacturing of denim. We export approximately 20 tons of spandex to Pakistan every month."
From the perspective of Zhou, the Pakistani market is rather promising.
This article originally appeared on the China Economic Net
COMMENTS
Comments are moderated and generally will be posted if they are on-topic and not abusive.
For more information, please see our Comments FAQ