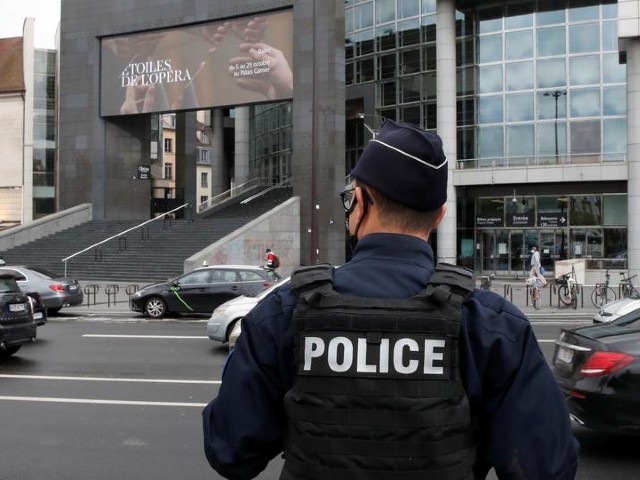 ---
PARIS:
French police on Friday arrested two suspects, a Pakistani and an Algerian, following a knife attack outside the former offices of satirical weekly Charlie Hebdo in Paris, injured two people, the police and witnesses said.
The prosecution office said it had opened a probe into charges of "attempted murder related to a terrorist enterprise" as well as "conspiracy with terrorists", three weeks into the trial of suspected accomplices in the 2015 massacre of the Charlie Hebdo staff.
Paris police said two people were "critically wounded" after a man armed with a meat cleaver attacked them in the capital's 11th district. They added that the suspect was arrested and a large meat cleaver found near the scene, believed to have been used in the attack.
France's PNAT specialist anti-terror prosecution office said the "main perpetrator" was arrested near the Place de la Bastille square, not far from the scene of the crime, adding that it had opened probe into charges of "attempted murder related to a terrorist enterprise" as well as "conspiracy with terrorists."
According to PNAT head Jean-Francois Ricard, the suspect was an 18-year-old man. Initial indications are that he was born in Pakistan. A 33-year-old man was held in the Bastille area for questioning to determine possible links to the "main perpetrator," Ricard added.
Charlie Hebdo has angered Muslims around the world by publishing blasphemous cartoons. And in a defiant gesture ahead of the trial over January 7, 2015 attack – that killed 12 people, including some of the cartoonists – it reprinted some of the caricatures this month.
The Premieres Lignes news production agency said the wounded were its employees—a man and a woman taking a cigarette break outside. Prime Minister Jean Castex, visiting the scene with Paris Mayor Anne Hidalgo, said the lives of the two victims "are not in danger."
Five schools in the area went into lockdown for several hours after the attack, and half a dozen nearby metro stations were closed. In a Twitter post, Charlie Hebdo expressed its "support and solidarity with its former neighbours... and the people affected by this odious attack".
The stabbing came amid the trial of 14 alleged accomplices of brothers Said and Cherif Kouachi, the perpetrators of the 2015 attack. A female police officer was killed a day later, followed by the killing of four men by gunman Amedy Coulibaly the next day.
The trial, which opened on September 2, was postponed on Thursday after accused Nezar Mickael Pastor Alwatik fell ill in the stand. But it resumed on Friday morning, with the suspect back in the box, after a coronavirus test came back negative.
COMMENTS
Comments are moderated and generally will be posted if they are on-topic and not abusive.
For more information, please see our Comments FAQ