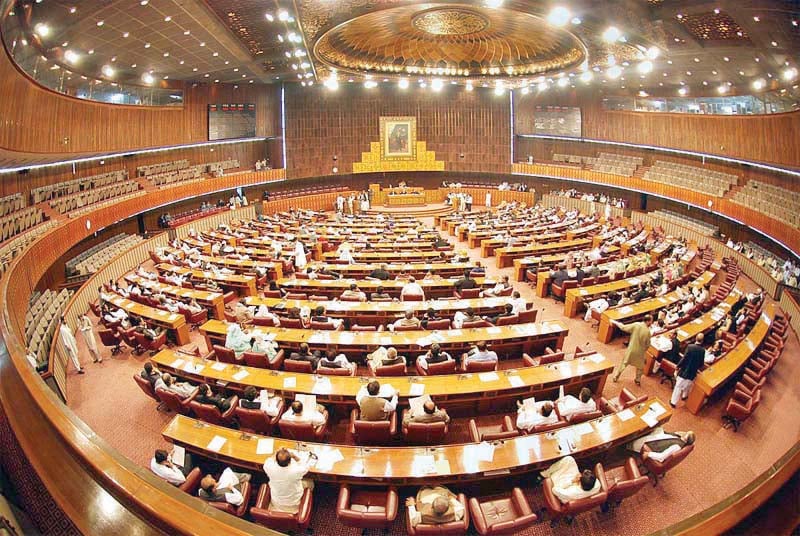 ---
ISLAMABAD:
The law ministry on Wednesday sought time more time to hold a discussion on the amendments to the country's accountability law and other treasury bills with a parliamentary panel.
The members of the National Assembly Standing Committee on Law and Justice belonging to the PPP and PML-N told the law secretary that they were ready to clear the National Accountability (Amendment) Ordinance, 2019. However, the law secretary asked the panel to put off the debate on the bill.
The NA panel met under the chairmanship of Riaz Fatyana.
PPP MNA Naveed Qamar told the law secretary that the panel was ready to approve the bill in its current state. Mohsin Nawaz Ranjha also told him that his party had no reservations and it was prepared to approve the bill.
The chairman told the panel that Law Minister Farogh Naseem could not attend the meeting because he was busy and he had requested that the bill should be approved in his presence. Qamar said in that case, the approval of the other legislation pending before the committee, the Whistleblower Protection and Vigilance Commission bill, should be put off as well.
The approval of both the bills was then deferred till the next meeting of the committee.
Separately, the Senate Standing Committee on Law and Justice directed the law ministry to provide details of the procedure for the appointment of the advocate General Islamabad. It also sought the summary on which the appointment was made.
The panel met here under the chairmanship of Muhammad Javed Abbasi and discussed The Constitution (Amendment) Bill, 2020 (Amendment of Article 140).
Senator Farooq H. Naek and Senator Musadik Masood Malik highlighted some important aspects of the bill and said that it required thorough consideration and in this regard the response of the relevant ministry needed to be sought at the earliest.
The committee deferred further consideration on the bill.
Another bill, the Guardians and Wards (Amendment) Bill, 2019 moved by Senator Farooq H. Naek, was also taken into consideration. The bill, Naek said, sought to clarify the existing case law and afford protection to mothers in relation to the custody of their children.
He said the bill further purported to codify the hierarchy of preference in relation to custody.
The committee deferred the bill till its next meeting.
The meeting was attended by Senators Musadik Malik, Dr Ghous Niazi, Syed Muzafar Hussain Shah, Sana Jamali, Mustafa Nawaz Khokhar, Farooq H. Naek and Zeeshan Khanzada.
WITH INPUT FROM APP
COMMENTS
Comments are moderated and generally will be posted if they are on-topic and not abusive.
For more information, please see our Comments FAQ