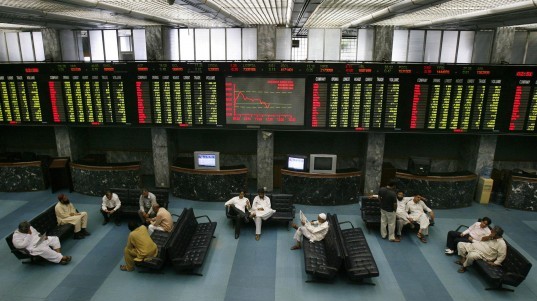 ---
KARACHI:
Bears held the ground at the Pakistan Stock Exchange (PSX) on Wednesday as the market endured another round of selling with the benchmark KSE-100 index dropping about 60 points.
Stocks continued to face selling pressure as uncertainty prevailed about a joint session of parliament on Wednesday for voting on a crucial Financial Action Task Force (FATF)-related bill.
The sell-off continued despite the announcement by the State Bank of Pakistan (SBP) that the Monetary Policy Committee would meet on September 21 to decide on the next monetary policy.
A brief stay of the KSE-100 index in the green was fuelled by investors' expectation of a status quo in the monetary policy statement.
During the course of trading, the KSE-100 hit intraday low of 42,109.20 points, before recouping some losses, but it still ended the day in the red.
Other somewhat negative triggers that blunted any positive vibes in the market included the Asian Development Bank's forecast that Pakistan's economy would grow at a pace of 2% in the current fiscal year, which was lower than growth rates of four South Asian countries.
At close, the benchmark KSE-100 index recorded a decrease of 64.14 points, or 0.15%, to close at 42,282.28 points.
Arif Habib Limited, in its report, stated that the session was marred by news of FATF-related bill that required parliament's approval, which resulted in selling pressure on the KSE-100 index.
"Besides, the SBP announced the date for monetary policy decision and street consensus hinted at maintaining the status quo," the report said, adding, "Overall, volumes stood below 500 million shares."
"Selling pressure was observed on banks, oil and gas marketing companies, pharmaceutical and steel sectors," it said. "Fertiliser and cement sectors, however, performed well in anticipation of an increase in fertiliser and cement prices."
The power sector topped the volumes with trading in 82.7 million shares, followed by cement firms (65.6 million) and banks (54 million).
Individually, stocks that contributed positively to the index included Engro Corporation (+41 points), Lucky Cement (+20 points), Dawood Hercules (+19 points), Fauji Fertiliser (+15 points) and Systems Limited (+11 points).
Stocks that contributed negatively were HBL (-28 points), Pakistan Tobacco (-18 points), Hubco (-16 points), UBL (-15 points) and Pakistan State Oil (-13 points).
JS Global analyst Maaz Mulla said the KSE-100 index blew hot and cold, touching intraday high of +198 points and stooping to a low of -254 points.
Millat Tractors (+1.7%) from the auto sector announced its FY20 result, where the company posted earnings per share of Rs39.42 with no cash payout.
"Investors' interest was witnessed in the cement sector where Dewan Cement (+5.4%), Power Cement (+2.2%), Cherat Cement (+0.9%), DG Khan Cement (+0.8%) and Lucky Cement (+1%) were the major gainers," he said.
"Selling pressure was noted in the banking and oil and gas marketing sectors where Allied Bank (-1.1%), UBL (-1.1%), HBL (-1.3%), Meezan Bank (-1.2%), Pakistan State Oil (-1.3%), Shell Pakistan (-2.8%) and Hascol Petroleum (-1.5%) lost ground," the analyst said.
"Going forward, we expect the market to continue the similar trend and recommend investors to see any upside as an opportunity to sell," the analyst said. "However, we recommend that any downside should be viewed as an opportunity to buy in cement, steel, consumer and banking sectors."
Overall, trading volumes fell to 489.6 million shares compared with Tuesday's tally of 662.8 million. The value of shares traded during the day was Rs14.6 billion.
Shares of 414 companies were traded. At the end of the day, 148 stocks closed higher, 250 declined and 16 remained unchanged.
K-Electric was the volume leader with 70.6 million shares, losing Rs0.05 to close at Rs4.07. It was followed by Hascol Petroleum with 37.4 million shares, losing Rs0.35 to close at Rs22.40 and Dewan Cement with 28.1 million shares, gaining Rs0.60 to close at Rs11.63.
Foreign institutional investors were net sellers of Rs192.9 million worth of shares during the trading session, according to data compiled by the National Clearing Company of Pakistan.