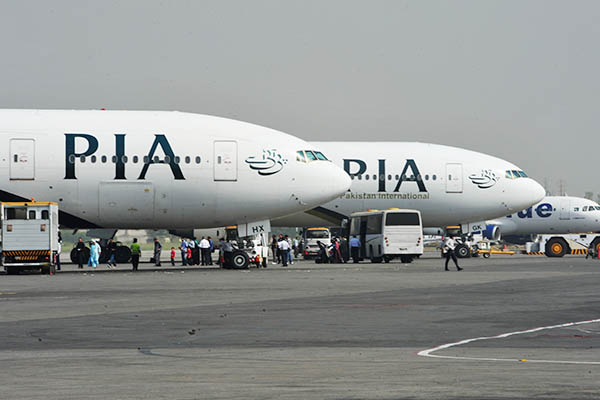 ---
ISLAMABAD:
The National Assembly was informed on Wednesday that the Pakistan International Airlines sustained a loss of Rs 280 million in the last two months because of flight operation ban in the European sector, however, the national flag carrier earned a profit of Rs520 million on flights for the UK.
During the Question Hour in the lower house of parliament, Aviation Minister Ghulam Sarwar Khan said in a written reply that the air crash in Karachi in May this year damaged PIA's reputation, leading to increase in the premium cost and drop in the number of passengers.
PIA's revenue on European sectors reached Rs1.41 billion against the expenses of Rs1.69 billion, the aviation minister told the house in his written reply to a question. He added that the losses were suffered during the months of July and August.
However, the minister said, profit of Rs520 million was earned on the UK sector. The UK sector generated Rs5.81 billion in revenues against the expenses of Rs5.31 billion, he added. He also said that services of a Maltese company had been acquired for flights between Pakistan and the UK.
Karachi air crash
The minister told the house that determining the actual cause of the crash of PIA flight in populated area of Karachi would take a few more months. Because of the crash, the minister said that the premium cost would be more than $5 million.
About the compensation to the families of the victims, he said that the amount would be paid by the insurance company. Rs 1 million had been paid to heirs of each deceased and two survivors, while compensation of Rs10 million for each passenger would be paid after completing legal formalities.
Speaking about another PIA plane crash in December 2016, the minister told the house that Rs500,000 was paid for the funeral of each passenger. He added that Rs1 million had been paid for the funeral and burial of the deceased, who perished in the Karachi air crash.
COMMENTS
Comments are moderated and generally will be posted if they are on-topic and not abusive.
For more information, please see our Comments FAQ