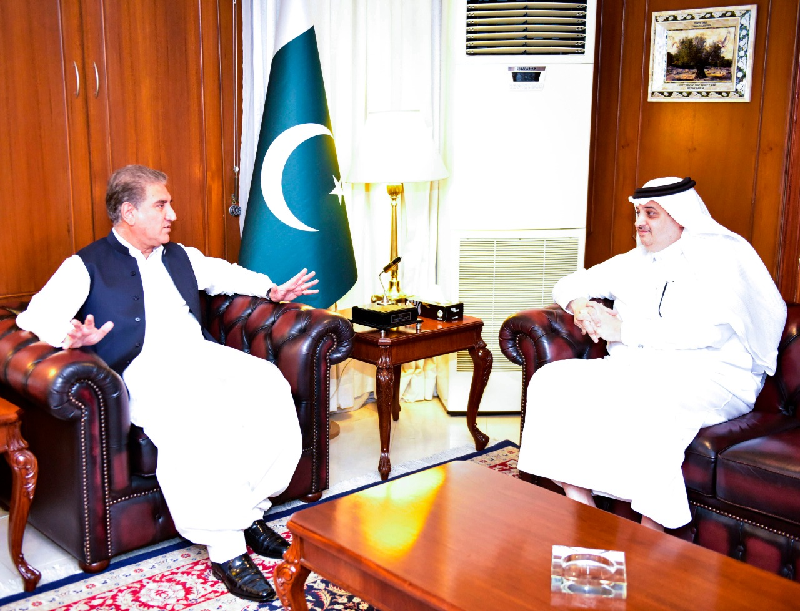 ---
Saudi Ambassador to Pakistan Nawaf bin Saeed Ahmed Al Malki on Tuesday said the kingdom would continue to work with Pakistan for further strengthening of bilateral ties.
The ambassador called on Foreign Minister Shah Mahmood Qureshi to discuss the growing Pak-Saudi cooperation in diverse fields. He highlighted the excellent relationship between the leadership of both countries, said a statement released by the Foreign Office.
The foreign minister reiterated Pakistan's support with Saudi Arabia against any threats to its security and territorial integrity. He condemned the attacks by the Houthi militia on the kingdom and called for the attacks to be stopped immediately.
Qureshi also highlighted Saudi Arabia's traditional leadership role in the Muslim Ummah and extended good wishes to King Salman bin Abdulaziz Al Saud.
The leaders exchanged views on important bilateral, regional and international developments.
A day earlier, Qureshi reaffirmed commitment to safeguard territorial integrity of Saudi Arabia, saying "Pakistan stands shoulder-to-shoulder with the kingdom".
During the meeting, Qureshi said both the countries enjoy deep and historic relations, adding that the sanctity of the holy sites in Saudi Arabia is part of every Muslim's faith.
The foreign minister said he was eager to meet Saudi Energy Minister Abdulaziz bin Salman and Faisal bin Farhan Al-Saud during their upcoming visit to Pakistan.
COMMENTS
Comments are moderated and generally will be posted if they are on-topic and not abusive.
For more information, please see our Comments FAQ