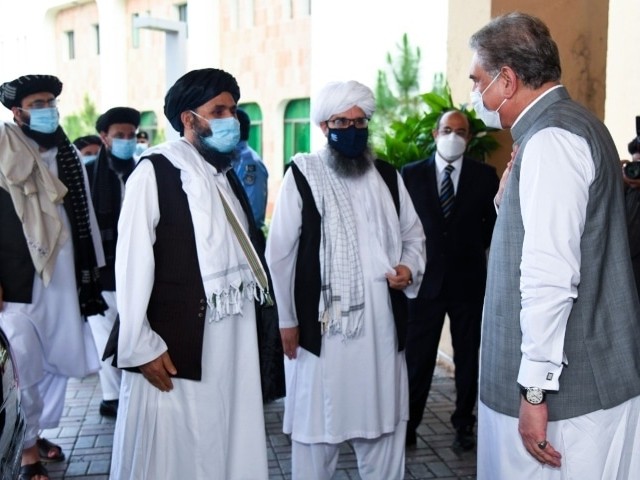 ---
After meeting with a high-level Pakistani delegation in Islamabad, the Afghan Taliban on Wednesday said that they considered intra-Afghan negotiations and peace in Afghanistan "vital for both countries and the region".
The statement came a day after Foreign Minister Shah Mahmood Qureshi had a meeting with the visiting six-member Taliban Political Commission (TPC) delegation, headed by Mullah Abdul Ghani Baradar, at the Foreign Office. The head of Inter-Services Intelligence (ISI), Lt Gen Faiz Hameed was also present in the meeting.
The visit of the Taliban delegation comes against the backdrop of efforts for early commencement of intra-Afghan dialogue – a crucial phase of the peace process. According to a handout issued by the FO, views were exchanged on the current status of the Afghan peace process and the way forward during the meeting.
Later, Prime Minister Imran Khan, during a telephonic conversation with Afghanistan's Chairman High Council for National Reconciliation Abdullah Abdullah, said that Afghan leaders must seize "this historic opportunity to achieve an inclusive political settlement contributing to durable peace, security and prosperity in Afghanistan".
PM urges Afghan leaders to 'seize historic opportunity to achieve political settlement'
PM Imran also invited Abdullah to visit Pakistan, according to a statement issued by the Ministry of Foreign Affairs (MoFa).
Afghan Taliban Spokesperson Mohammad Suhail Shaheen, in a statement, said that talks with Pakistani officials were held about establishing peace and security in Afghanistan and the region. "Both sides stressed upon the importance of building trust and good relations between the two countries," the statement added.
He said that the delegation discussed and exchanged views on a range of important issues.
According to Shaheen, the delegation asked problems being faced by Afghan refugees in Pakistan are addressed which the Pakistani side accepted and gave assurances of a quick resolution.
He said that the issue of release of Afghan prisoners in Pakistan was also discussed with the Pakistani officials, according to Shaheen, promising that all necessary steps for their release will be taken. Those without families or held on petty crime charges will be freed while prison sentence of those held on serious charges will be reduced.
Previously, a TPC delegation, also led by Mullah Baradar, had visited Pakistan in October 2019 for wide-ranging consultations on the Afghan peace and reconciliation process. During that visit, Pakistan facilitated a meeting between Mullah Baradar and US special envoy Zalmay Khalilzad just days after President Donald Trump abruptly called off peace talks with the Taliban.
With the exchange of prisoners between the Afghan government and the Taliban almost complete, the focus is on the intra-Afghan dialogue. The dialogue is seen as crucial as it will seek consensus among all Afghan players on the future political dispensation of the country.
The US is keen to see some sort of deal before Trump goes for re-election in November this year. Sceptics, however, are wary of any early breakthrough given the differences among major political players. Pakistan and other immediate neighbours of Afghanistan want an orderly withdrawal of US-led foreign forces from Afghanistan in order to avoid any civil war.