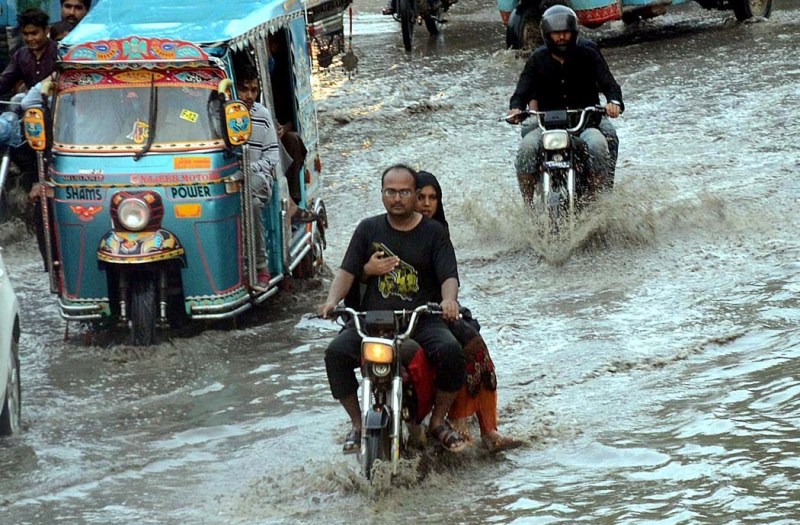 ---
KARACHI:
The Pakistan Meteorological Department (PMD) has predicted moderate to heavy rainfall in Karachi for Tuesday as showers in the port city started in the early hours of the day.
The current rain spell, which started around 4am in many areas, continues unabated in Karachi as the city witnesses the heaviest spell of the current monsoon system. The PMD has also issued an urban flooding warning for the metropolis. A marked low-pressure system of heavy showers will start showing its effects during the afternoon hours.
At least two, both children, have reportedly died in rain-related incidents across the city and others have been injured.
The Met Office has predicted that the current spell with continue til Thursday (August 27).
Areas of Malir, airport, Gulshan-e-Iqbal, Shah Faisal Colony, Azeempura, DHA, Mehmoodabad, Akhtar Colony, Clifton among many others are witnessing heavy rainfall with interspersed periods of light to moderate showers.
With more rain expected throughout the day (Tuesday), normal life has come to a standstill and those caught outdoors are mostly trying to head back to their homes.
The city's electric utility, K-Electric, urged citizens to adopt precautionary measures and asked people to keep a safe distance from broken wires, electric poles and pole-mounted transformers (PMT).
"The unsafe use of electric equipment in stagnant, or rainwater can cause accidents, illegal power connections are also deadly," added the KE spokesperson. There were reports of power outages from various areas of the city.
Meanwhile, many roads of the metropolis are inundated as commuters face severe issues due to choked or clogged storm drains. However, Sindh Local Government Minister Nasir Hussain Shah has claimed that the city's situation was better than it had been during the previous monsoon spells.
He further claimed that areas, where water has accumulated, are being rapidly cleared, including major arteries of the port city.
Citizens also shared the situation of the areas around their residences and workplaces on social media.