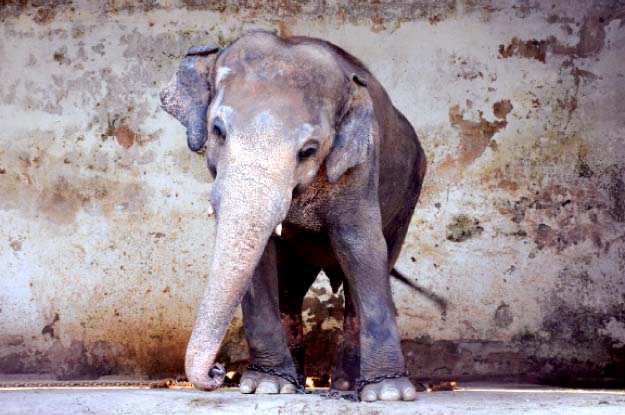 ---
ISLAMABAD:
Three expert elephant vets are due to arrive in Pakistan over the next week and a half to assess the health of the lonesome elephant at the Islamabad Zoo before this relocation to a sanctuary in Cambodia.
The Ministry of Climate Change expects to move the pachyderm before the end of this month.
A ministry official on Wednesday said that the Pakistani diplomatic mission in Bangkok has issued visas to three veterinary experts including Thai Srisaard Channarong, Pratumdee Wichian and Canadian Thomson Darrick Lome.
The vets, which are expected to arrive in Islamabad before the end of August, will conduct a health assessment of the elephant at the Margharzar Zoo to determine whether he is fit to travel to the wildlife sanctuary in Cambodia.
Ministry of Climate Change Deputy Director Muhammad Saleem said that information about the visas had been conveyed by to the ministry by the Foreign Office on Wednesday.
He added that a letter from the FO in this regard will be presented before the Islamabad High Court (IHC).
The IHC, in a case between the Islamabad Wildlife Management Board (IWMB) and the Islamabad Metropolitan Corporation (IMC) and others, had directed to make necessary arrangements for the relocation of the elephant to a sanctuary.
In line with the court's directions, the IWMB had notified an eight-member committee to oversee Kaavan's relocation. It comprised WWF-Pakistan's senior director programmes as its chairman and biodiversity specialist ZB Mirza as its co-chairman.
Published in The Express Tribune, August 20th, 2020.
COMMENTS
Comments are moderated and generally will be posted if they are on-topic and not abusive.
For more information, please see our Comments FAQ