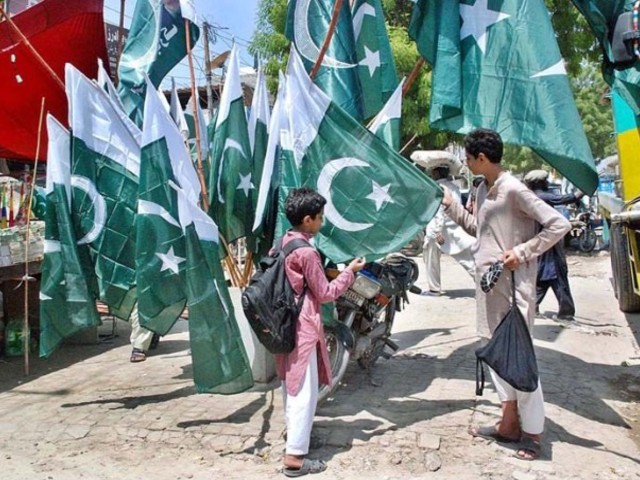 ---
ISLAMABAD:
There might be a myriad of issues that divide the people of Pakistan, but when it comes to celebrating the Independence Day on August 14, the entire nation comes together to rejoice the feeling of living in a free and independent state.
Every year, Pakistanis from all walks of life celebrate Independence Day with renewed zeal and fervour. But unlike the past, the Covid-19 pandemic has put a damper on the celebrations this year.
Despite that, various political, religious, and government organisations, and the public at large, have decided to celebrate the occasion with the same enthusiasm by following the coronavirus Standard Operating Procedures (SOPs) suggested by the government.
Prayers for the country
Speaking to The Express Tribune, Anjuman Shehryan e Lahore's President Shafiq Raza Qadri said that the 14th of August is of immense importance to every Pakistani, therefore, we should celebrate it with the same traditional passion.
"We will begin with prayers in the mosque for the development and prosperity of our country," Qadri said. "The lockdown in Punjab has been lifted but we still have to be cautious by avoiding large gatherings and maintaining social distance."
Cathedral Church Lahore's Dean Pastor Shahid Meraj said that on Independence Day, children from the Sunday Choir would sing songs and perform tableaus in the church, while special prayers would be offered for the national security of Pakistan.
"I appeal to the public to ensure the implementation of the SOPs on Independence Day."
Civil society representative Abdullah Malik added: "We must also remember our Kashmiri brothers and sisters on the Independence Day. I also appeal the Pakistani youth to pray for the country, refrain from engaging in hooliganism, drinking alcohol, and attending large gatherings because we must commit to a healthy and Covid-19 free Pakistan."
Nationwide fervour
Akin to the past, the Pakistani flag has been hoisted on the roofs of different public buildings across the country. Many buildings have also been decorated with colourful lights.
Per sources, all parks, amusement parks, the Shahi Qila, and the Lahore Zoo will remain open in Lahore, but visitors will be required to wear masks. That apart, the traditional flag-lowering ceremony will take place at Lahore's Wagah border, but visitors will not be allowed.
Likewise, in Karachi, Independence Day celebrations have been organised by governmental and non-governmental organisations, schools, colleges, and the private sector.
Sources said that on the morning of August 14, the main ceremony will be held at the mausoleum of the Founder of Pakistan, Quaid e Azam Muhammad Ali Jinnah. Parks and public places will remain open but the government has urged people to observe the SOPs for their own and others' safety.
All the main public buildings across Islamabad and Rawalpindi will be decorated with lights and the Pakistani flag, said Islamabad's Deputy Mayor Syed Zeeshan Ali Naqvi.
He added that Independence Day is an important occasion which cannot be ignored just because we are facing a difficult situation.
"Whether there is a pandemic or any other catastrophe, we are united under one flag as Pakistanis and we have to show this to the world," he said.
Unlike other cities, many public places in Peshawar will remain closed because of the pandemic. Nonetheless, public and private buildings will be decorated per usual.
Individual celebrations
Besides the decoration of buildings and opening of recreational spots in different cities of Pakistan, people are also celebrating in their own small ways by decorating their homes, shops, and vehicles with the Pakistani flag to exhibit their patriotism.
For the purpose, roadside stalls selling flags, badges, stickers, and clothes for adults and children alike, have been set up in almost all cities of Pakistan.
"Most children are purchasing small badges and flags (jhandiyan) to decorate their homes, while adults are buying large flags to decorate their cars and motorbikes," said a shopkeeper from Karachi's Kagzi Bazaar, the largest flags-selling market in the city. "We were anticipating that our sales will considerably go down this year because of the pandemic, but the virus has failed to dampen the spirits of Pakistanis."
Unlike Karachi, the situation in Peshawar has been slightly different.
Noor Khan, a flag vendor who set up a roadside stall at Peshawar's Qissa Khwani Bazaar, said that his sales have significantly gone down because of the pandemic as compared to previous years.
Ten-year-old Haris Khan from Peshawar said that he wants to celebrate the 14th of August like every year, but his parents are not allowing him to do so because of the pandemic.
"Every year, we visit the Qilla Bala Hisar, the Army Stadium, and Chacha Younas Park, but now all these places have been closed because of the Covid-19," he said.
Pakistan National Hockey Team's former captain Shahbaz Ahmed, who lives in Islamabad, said the Independence Day should be celebrated despite all odds so that we can present a picture of a strong and resilient Pakistan to our future generations.
"We have to remind our children of the sacrifices that our elders made to gain independence," he said.
COMMENTS
Comments are moderated and generally will be posted if they are on-topic and not abusive.
For more information, please see our Comments FAQ