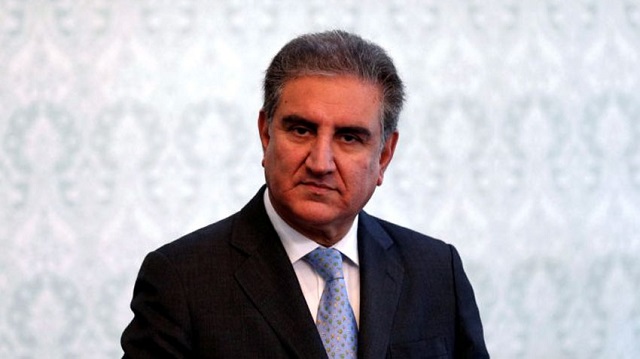 ---
ISLAMABAD:
Islamabad is raising the issue of Islamophobia at every international forum, said Foreign Minister Shah Mahmood Qureshi in a statement on Thursday.
Directing all his comments towards India and the current BJP government's anti-Muslim sentiments in the neighbouring country, Qureshi said that Pakistan has the right to voice this concern at every international forum.
He referred to the recent incident of violence in Bengaluru, which left at least three dead in clashes triggered by a post on social media offensive to Muslims.
The violence began late on Tuesday, with mobs pelting stones, burning vehicles and setting a police station on fire, and lasted until the early hours of Wednesday. Dozens of people were wounded.
"Prime Minister Narendra Modi's government has buried the secular state of India and instead is giving rise to a Hindu state," said Qureshi. "This is not an internal matter, it is a humanitarian issue," he said. Muslim minorities are not safe in India, insisted Qureshi.
The foreign minister urged Human Rights Watch, Amnesty International, and other global rights groups to take notice of the incident.
Qureshi further condemned the act of constructing a temple after demolishing a mosque - referring to the historic Babri Masjid site where a Hindu temple is now being built.
The foreign ministry took up the matter with officials of the Indian High Commission yesterday and will raise the issue of Islamophobia at every international forum as well, said Qureshi. He also mentioned Prime Minister Imran Khan's speech at the United Nations General Assembly session last year, where the premier raised the matters of Kashmir, climate change, money laundering and Islamophobia as central issues for the global community.
On Wednesday, Islamabad lodged a strong protest with India on a derogatory social media post against Islam in Bengaluru, the ministry of foreign affairs said.
"Pakistan has conveyed its strong condemnation to the Indian High Commission in Islamabad on the reported incident involving a derogatory social media post against the Holy Prophet (PBUH) by an extremist from the majority Hindu community in Bengaluru, Karnataka," the statement read.
It said that the offensive post against Islam has hurt Muslims and reflected the rising Islamophobia and targeting of minority communities in India.
The ministry said that the rising incidents of religious hate crime in India are a direct and inescapable consequence of the RSS-BJP's combined extremist ideology of 'Hindutva'.
"The incident has been viewed with concern and the civil society in Pakistan has called for justice for the minority Muslim community in India," the statement added.
Pakistan called upon the government of India to investigate the incident and take immediate action against the perpetrators of religious hatred.