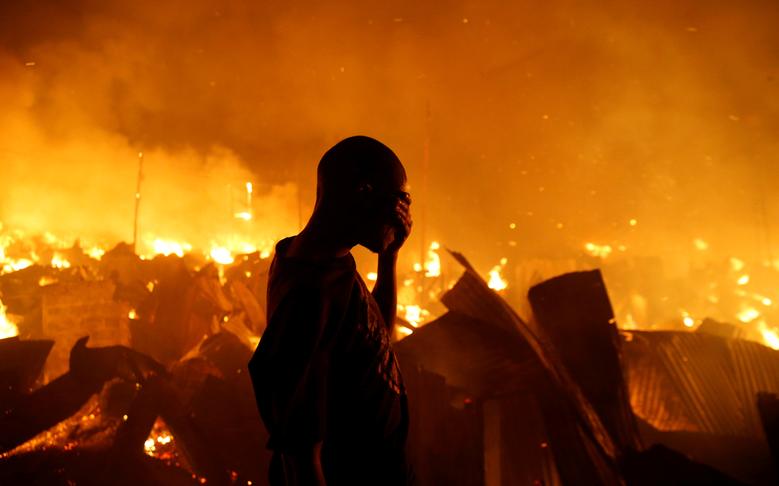 ---
KARACHI:
A mobile phone panel warehouse caught fire on Tuesday after authorities used a gas-cutting to remove a billboard from Star Mobile Market at Abdullah Haroon Road.
Saddar assistant commissioner (AC) Asif Raza, Preedy SHO Sajjad Khan and dozens of shopkeepers gathered at the spot after the blaze erupted and sought help from the fire department.
A fire tender doused the blaze after a half-hour-long operation and started the cooling process, following which the building was declared clear.
According to sources, anti-encroachment department staff was working on the market's second floor to remove the billboard when the fire erupted from the gas-cutting torch. They added that the staff immediately fled from the spot when the fire broke out.
While Raza claimed the cause of the fire could not be ascertained right away, a shopkeeper claimed the flames erupted due to the anti-encroachment staff's negligence while using their equipment.
Karachi Electronic Dealers Association's Minhaj Gulfam told The Express Tribune that the warehouse, where mobile phone panels were stored, was completely gutted in the incident, causing losses of at least Rs3.5 million.
He added that they would take legal action against the authorities' alleged negligence and demand compensation for it.
The billboard was being taken dismantled after the Supreme Court ordered the removal of all billboards in the city, following an incident where one such hoarding fell onto two motorcyclists during the rain last week.
Published in The Express Tribune, August 12th, 2020.
COMMENTS
Comments are moderated and generally will be posted if they are on-topic and not abusive.
For more information, please see our Comments FAQ