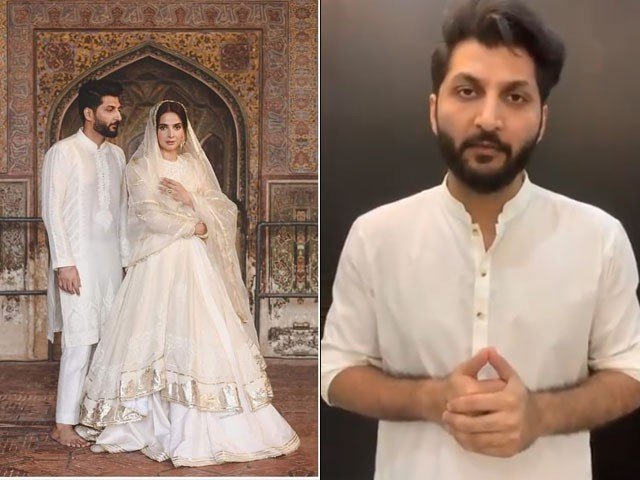 ---
Last week, Saba Qamar shared a post on Instagram with singer Bilal Saeed about the latter's upcoming song. Qubool. The actor shared that the song will be her directorial debut and she will also star in it. The collaboration was being awaited anxiously until the audience came to know that it had been shot at the Wazir Khan mosque.
The duo received flak over 'disrespecting' the mosque.
Recording of Dancing scenes or music in Masjid Wazir Khan Lahore is a heartbreaking incident. We need to demand an urgent call of action against Media Production House, Saba Qamar and her Co-star and the management of Masjid Wazir Khan from top to bottom. This is Unbearable.

— Teeba Syed🇵🇰🇹🇷 (@TeebaSyedPK) August 7, 2020
However, now the singer has shared a clarification video over the aforementioned criticism. In a two-minute clip, Saeed apologised to fans and followers for unintentionally hurting their feelings.
"We realise what has happened over the past few days has hurt your sentiments deeply," he wrote as a caption. "We as Muslims, as decent human beings and as artists will never, ever trivialise or condone disrespect to Islam or any other religion, race, caste, colour or creed. If we have unknowingly hurt anyone's sentiments we apologise to you all with all our heart."
Talking about the song, Saeed shared, "Saba Qamar and I had recently filmed a nikkah sequence at Wazir Khan Mosque which created a big misunderstanding and hurt the emotions of a lot of people. Many thought we were doing a dance sequence, which wasn't true."
He went on to add, "Alhamdulilah I am a Muslim and I was raised in a Muslim household. I cannot even think about doing something that would disrespect my religion. I solemnly affirm in the name of Allah that neither did we play any music in the mosque and nor did we dance and the witness to that is the management of the mosque."
Saeed also shared that he will be removing the mosque sequence from the video altogether.
Watch the full video here:
Have something to add to the story? Share it in the comments below.
COMMENTS (1)
Comments are moderated and generally will be posted if they are on-topic and not abusive.
For more information, please see our Comments FAQ