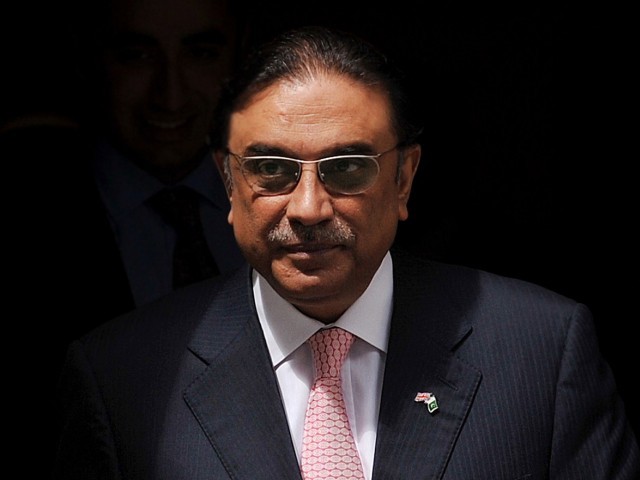 ---
ISLAMABAD:
An accountability court has finally indicted former president and the PPP supreme leader Asif Ali Zardari in a case involving allegations of money laundering and misuse of authority.
Zardari, who is reportedly ill, appeared on Monday before Islamabad Accountability Court-II Judge Azam Khan via video link from Bilawal House in Karachi. The former president pleaded not guilty.
Earlier, Zardari told the judge that his counsel, Farooq H Naek, could not appear in the court due to his engagement in the apex court and that the court should defer the indictment process.
He claimed that the National Accountability Bureau (NAB) – the top anti-graft watchdog, which is the prosecutor in this case – has filed a "political case" against him as he in his capacity as the country's former president introduced the 18th Amendment that gave more autonomy to provinces.
"I have been facing such [politically motivated] allegations for the last 30 year. Once they fail to prove their allegations, they kneel down before me to seek forgiveness," he said.
The PPP leader spent 9 years in prison during the former PML-N government and military regime of General Pervez Musharraf but was later exonerated from all allegations.
The judge, Azam Khan, however, did not accept Zardari's request to defer the indictment process and read out the charges against him and 12 other accused including Anwar Majeed, Sher Ali, Farooq Abdullah, Saleem Faisal and Muhammad Hanif.
The court also ordered NAB to present its three witnesses – Ahsan Aslam, Nabeel Zahoor and Abdul Kabeer – along with its record. It adjourned hearing of the case till September 1.
The charge-sheet said Zardari influenced relevant authorities during his tenure as the president to get loans released to his front companies, including the Park Lane.
The former president allegedly got a loan of Rs1.5 billion released for another of his front company, Parthenon Private Limited with ill intention, and the money was later transferred for his personal use through fake bank accounts.
NAB accused the former president of causing the national exchequer a loss of Rs3.77 billion through these fake bank account transactions. In its 13-page long reference, NAB alleged that the accused created benami properties through Park Lane Company using Parthenon Private Limited as the front.
Using the money acquired through loans, eight floors were constructed at the IBC Centre.
Initially, a loan of Rs1.5 billion was taken that gradually increased to Rs4 billion. Former executive director of the Security and Exchange Commission of Pakistan (SECP), and two former presidents of the National Bank of Pakistan, are listed as witnesses against Zardari in this reference.
Zardari's counsel, Farooq H Naek, had earlier requested the court that the Park Lane reference doesn't fall under the jurisdiction of NAB as it is related to "financial law".
COMMENTS (1)
Comments are moderated and generally will be posted if they are on-topic and not abusive.
For more information, please see our Comments FAQ