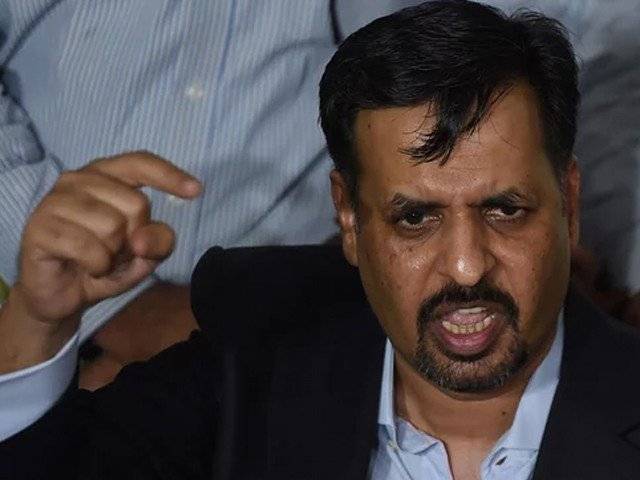 ---
The Pakistan Peoples Party (PPP) has begun the division of Sindh by dividing Karachi into six districts on ethnic grounds, claimed Pak Sarzameen Party chairperson Syed Mustafa Kamal on Thursday.
Addressing a press conference, he stated that neither the division of Sindh nor the division of its provincial capital was acceptable as he lashed out at "the biased, incompetent and corrupt PPP-led Sindh government" for "damaging the fibre of the country"
Kamal added that though the National Disaster Management Authority was tasked with cleaning the city's drains, it was at best a form of first aid for the metropolis rather than a cure for its problems.
"Handing the city over to the federation or the army is not the solution. If today the army also fails in cleaning up Karachi, to whom will the nation look up to in crises?" he asked, adding that Sindh was just another province of Pakistan rather than a state in which the federation could not intervene.
He called for Prime Minister Imran Khan and Chief of the Army Staff Gen Qamar Javed Bajwa to come to Karachi and remain there until the city's problems were solved.
Kamal also pointed towards the Muttahida Qaumi Movement-Pakistan (MQM-P), saying, "The so-called sympathisers of Karachi and Hyderabad, who have been misleading the people by crying over the lack of authority and resources, were part of the PPP provincial cabinet on October 31, 2013, when they handed over the local government's authority and resources to the provincial government." He added that four out of Karachi's six districts still lay with the MQM-P.
Kamal also demanded a probe into the use of billions of rupees allocated to the local government system, adding that the mayor, deputy mayor and others should be put on the Exit Control List.
He asserted that the powers and resources devolved to the provinces after the 18th Amendment should reach every nook and corner of the country. "It should not be at the chief minister's discretion whether to transfer these down to the districts."
Published in The Express Tribune, August 8th, 2020.
COMMENTS
Comments are moderated and generally will be posted if they are on-topic and not abusive.
For more information, please see our Comments FAQ