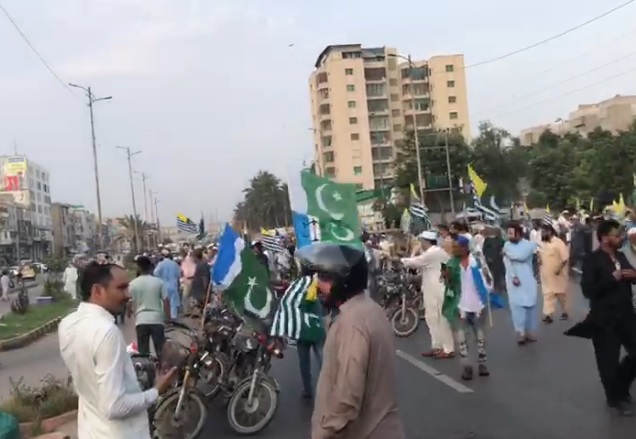 ---
KARACHI:
At least 39 people were injured when unidentified motorcyclists hurled a hand grenade at the participants of a rally organised by Jamaat-e-Islami (JI) for Youm-e-Istehsal-e-Kashmir in Gulshan-e-Iqbal on Wednesday.
According to East SSP Sajid Amir Sadozai, the assailants had hurled a cracker at the rally participants, who had gathered to show solidarity with the people of Indian Illegally Occupied Jammu and Kashmir, near Baitul Mukarram mosque on University Road.
The Sindh health department confirmed that at least 39 people had sustained injuries, with one person in critical condition.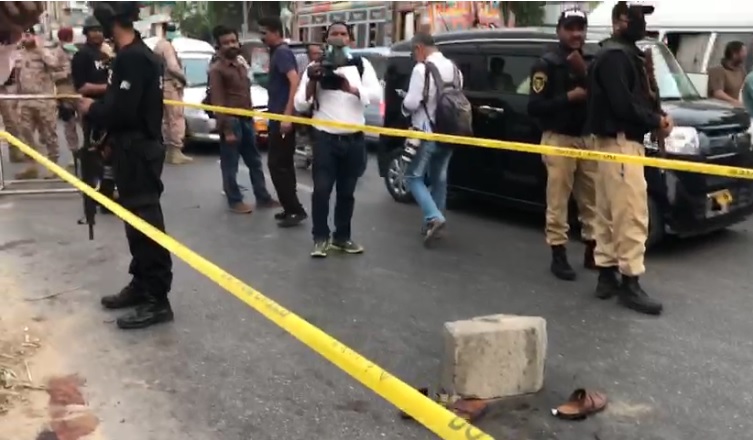 Meanwhile, the bomb disposal squad confirmed the incident as a cracker attack and reportedly recovered the lever of a RGD-1 hand grenade from the site.
Taking notice of the incident, Sindh IGP Mushtaq Ahmed Mahar sought a detailed report on the blast, which caused fear and panic among the rally's participants.
A large contingent of police and Rangers personnel cordoned off the area, while rescue workers rushed those injured to various hospitals.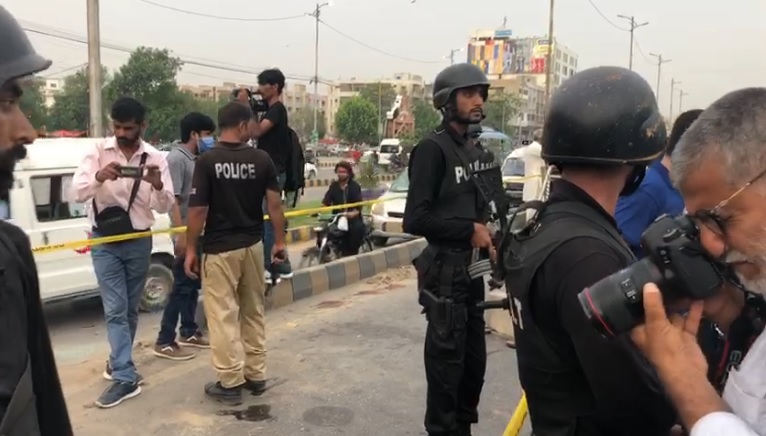 Strongly condemning the incident, JI Karachi chapter chief Hafiz Naeemur Rehman, who was addressing the rally at the time of the blast, said that an attack on a peaceful rally on a main thoroughfare in broad daylight raised questions about the efficiency of law enforcement agencies in the city. He added that three rally participants were seriously wounded, while others sustained minor injuries.
JI ameer Sirajul Haq, meanwhile, called the attack a "cowardly act" in a tweet. "Indian agents who cannot tolerate a show of solidarity with Kashmiris are still present in the city. We will not be frightened by such foul play and will continue to speak up for the people of Kashmir with even greater courage," he wrote.
کراچی میں جماعت اسلامی کی یکجہتی کشمیر ریلی پر بم حملہ بزدلانہ کارروائی ہے۔ شہر میں اب بھی بھارتی ایجنٹ موجود ہیں جن سے اہل کشمیر سے اظہاریکجہتی برداشت نہیں ہوا۔ اس طرح کے اوچھے ہتھکنڈوں سے خوفزدہ نہیں ہوں گے۔ اہل کشمیر کی زیادہ جرات کے ساتھ ترجمانی کریں گے۔
#JI_StandsForKashmir

— Siraj ul Haq (@SirajOfficial) August 5, 2020
COMMENTS
Comments are moderated and generally will be posted if they are on-topic and not abusive.
For more information, please see our Comments FAQ