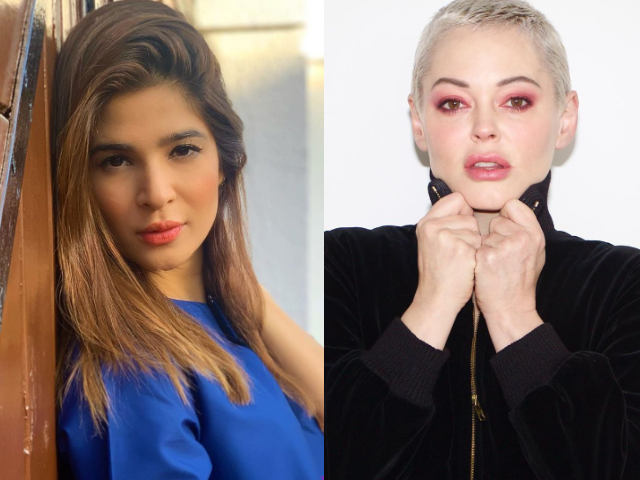 ---
Hollywood actor and a prominent part in the Harvey Weinstein trial, Rose McGowan sat down with Pakistani star Ayesha Omar for an exclusive Instagram Live session on Friday.
The two talked about her journey from when she first accused Weinstein of sexual harassment and how she has been coping after he was convicted five months ago. Omar also opened up about being preyed on by an industry giant in her early days.
For McGowan, coming to terms with her experiences has been tough, but for the better. Currently stationed in Mexico, she says she's feeling much better now. "I came to Mexico to heal. I mean, Weinstein was only put in jail five months ago but I've spent a good 20-21 years with a fat, monstrous foot on my neck and that monster represented the patriarchy, the society, and his accomplices," she said.
Her healing, however, has not been a lonely one. She introduced her precious therapy dog, Pearl, to Ayesha during the stream, sharing, "I had really severe nightmares from post-traumatic stress for years and she (Pearl) has taken them away by 90%."
Talking to Omar about her experience and how she found the courage to go public with her ordeal, McGowan shared that she had been vocal about it for decades before the story finally broke, thanks to Ronan Farrow.
"I've been saying the same stuff for years. I would sit at a dinner party 20 years ago and someone would talk to me about Weinstein and I'd tell them, 'Oh, you know he's a rapist.' And they'd be like, 'How do you know?' and I'd say, 'He raped me'. I was very casual about me; it was never my shame and I thought maybe someday, I'll meet a person that's going to make a difference and help me. And finally, I realised that it's going to be me."
The actor also revealed that she was effectively bidding her time before breaking the story to the larger public. Surprisingly, she shared that she "needed Trump." The Charmed actor admitted she needed the public to be more aware of harassment and for that, she needed the US president.
"I've privately been the same person for years now and my friends have been too, but it wasn't the right time yet. I was waiting for society to be ready, I was like, 'They're not smart enough yet.' And finally, I was like, 'Okay, we have to go for it and go fast!'" she said.
But what stopped her before Trump came to power? "I needed Trump because honestly, Hilary (Clinton) protected Weinstein in a major way. But more than that, I needed Trump to show people clearly that, 'This is racism', 'this is sexism', 'this is what ugliness really looks like' in a very black and white way."
Omar then spoke of living as a woman in Pakistan, telling McGowan, "In Pakistan, there are two feelings that take priority over others: one is fear and the other is shame. You (Rose) talk about anger, but we aren't allowed to be angry."
According to McGowan, that's a phenomenon not just confined to Pakistan. "Girls are trained to be polite at all costs, to shove our shame down, how it's our problem, we did this, it's our fault that we showed our ankles – whatever it is - and the reality of it is that no, it's a sick society and no, I'm not talking about Pakistan. I'm talking about the world," she expressed.
She then went on to share a grim reality of America. "If you talk about American women – there was a vote in America during the Obama administration about whether we should pay women equally and the vote was no," she shared. "America is like a third world country for women. It's not what people think; it's not the image they portray."
McGowan then revealed what the #MeToo movement means to her. "The media called it a movement but my thing was trying to force a cultural reset," said the Scream star. "I was like let's 'explode' the world. It's like when you clean your closet, you make a huge mess. First, you make a big mess and that was the explosion part and it was hard – not just for me, but it triggered people all over the world."
For Omar, however, the journey is still going on as she hasn't gone public with the name of her harasser. "When it happened to me, I had just entered the industry and I was this young, 23-year-old girl, fresh out of college, and bam, this started happening; by a man twice my age and a media giant," she shared. "It wasn't a one-off incident, it went on for years. I just didn't want to process it so I just let it stay there for about 15 years. And I finally spoke about it to somebody two years ago."
Turns out, there are more men that even McGowan has named yet. According to her, not sharing is also okay and it's important to "do it on your timeline." She also applauded Omar for her courage.
Today, the starlet thinks that a change just might be in motion. "There is a difference happening. I know somebody who is a big music producer and he told me that he sat down with his male friends not so long ago and they talked about times that they've pushed it too far, times they've done something wrong, how they can be better and what they need to do. So it is permeating; it's getting there," McGowan concluded.
Have something to add to the story? Share it in the comments below