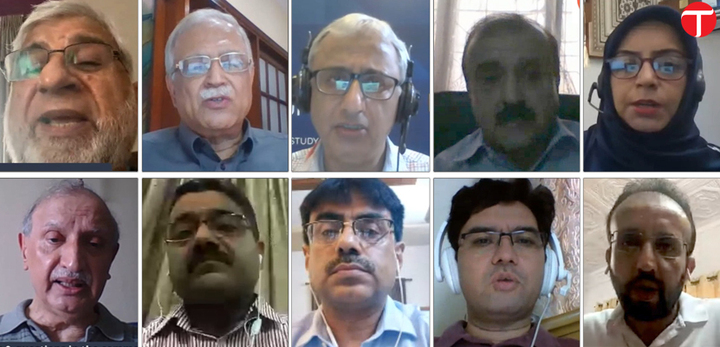 ---
KARACHI:
More than 15 million people in Pakistan live with hepatitis B or C, according to experts, with the overwhelming majority unaware about how the viral infection can be prevented, treated and, in the case of Hepatitis C, cured.
"This is a global trend with nearly 90% of the 325 million people worldwide who live with the virus unaware that they have hepatitis," Prof Zaigham Abbas, who heads the department of gastroenterology at Karachi's Ziauddin University Hospital, said.
He said this while moderating a first-of-its-kind webinar organised by the Express Media Group and the Pakistan Society for the Study of Liver Diseases (PSSLD) with the support of Hilton Pharma and Hinucon, ahead of World Hepatitis Day, observed annually on July 28.
"The prevalence of hepatitis B in Pakistan is around 5%, while that of hepatitis C is 2.5%," Prof Abbas said. "But the average is much higher in areas of upper Sindh, lower Punjab and some districts of Balochistan."
Talking about numbers, he said that at least 20% of those with the infection, suffered from cirrhosis, or damage of the liver. The mortality rate is around 4%, which means around 120,000 Pakistanis die of the virus every year. "This means 325 people die in Pakistan everyday due to complications caused by hepatitis, a much higher fatality rate than Covid-19," he added.
The World Health Organization (WHO) has set a target of eliminating hepatitis B and C as a public threat by 2030 by 90% reduction in new chronic infections, 65% reduction in mortality compared with a scenario in which interventions would continue at the current level.
Dr Bashir Ahmed, who heads the department of medicine at Shaheed Mohatarma Benazir Bhutto Medical University, Larkana, talked about the threat of transmission posed by the infection. "It is transmitted from infected mother to child, transfusion of infected blood, using syringes or surgical equipment previously used by a hepatitis positive patient, by having multiple sexual partners, etc."
About diagnosis, Dr Shahid Rasool, who heads the department of gastroenterology and hepatology at Madina Teaching Hospital, Faisalabad, said that the lack of awareness has resulted in the disease being labelled a 'silent killer'.
Prof Adil Naseer Khan of Ayub Medical College & Hospital, Abbottabad, talked about the treatment of hepatitis B, while Professor Sharbat Khan Mandokhail spoke about treatment of hepatitis C.
Dr Muhammad Salih, a consultant hepatologist at Islamabad's Quaid-e-Azam International Hospital, spoke about medical complications caused by hepatitis and how they are treated. Prof Masood Siddiq, the head of the department of medicine at Jinnah Memorial Hospital, Rawalpindi, spoke about how scree can be carried out to identify the millions who have the virus but are yet to be diagnosed.
Dr Amna Subhan, a consultant gastroenterologist at the Aga Khan University (AKU) Hospital, Karachi, spoke about vaccination for the various types of hepatitis, how they are spread. "There is no vaccine for hepatitis C and D," she said, but added that hepatitis B vaccine is widely successful and should be administered to all those who haven't been infected.
Prof Saeed Hamid, who heads the clinical trials unit at the AKU, spoke about programmes for the elimination of the viral infection. Citing the example of Egypt, he said the country has brought down prevalence from 8% to less than 1% now. "We need commitment and concerted action from the government instead of patchy responses," he added.
Prof Hamid, a former president of PSSLD, also questioned the country's capacity to diagnose and treat hepatitis. "As per WHO's goals, we have to screen 140 million people, of which we expect to identify 8 million who need treatment. Do we have the wherewithal to do this over the next ten years?"
He added that Covid-19 had further complicated the situation and the programme for mass screening was likely to be delayed further.
Prof Wasim Jafri, the founding president of PSSLD who is also a consultant gastroenterologist at South City Hospital and AKU, spoke about the effect of Covid-10 on hepatitis control.
Speaking about whether Covid-19 would be an impediment in controlling hepatitis, he remarked: "Pakistan is one of those unfortunate countries that has failed to eradicate polio, what to say about Covid-19."
He said that Pakistan's inadequate healthcare system was already over-stretched due to pandemic but there was a need to identify hepatitis hot spots and map the prevalence of the infection in various parts of the country. He also urged the media to play their role in creating awareness about the disease while lauding the Express Media Group for its initiative.
"The menace of the novel coronavirus hopefully, God willing, will come down but this menace of hepatitis is not going to go anywhere for the foreseeable future," he said.
The webinar, which was broadcast live on social media, also included questions from viewers, which the speakers answered following their presentations.
COMMENTS
Comments are moderated and generally will be posted if they are on-topic and not abusive.
For more information, please see our Comments FAQ