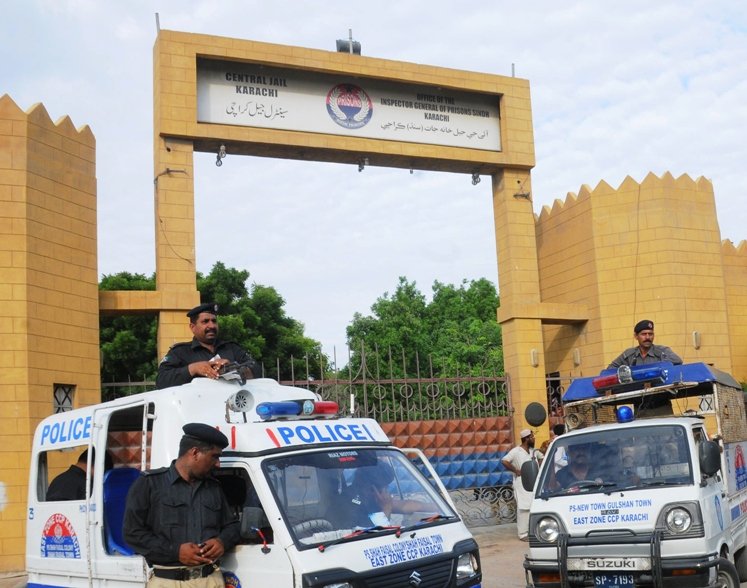 ---
Law enforcement personnel carried out an eight-hour long combing operation at Karachi Central Jail on Friday morning, with as many as 600 officials taking part in the 'secret' exercise.
Security arrangements inside and outside the prison were tightened, while its premises were encircled as the officials searched all the barracks and cells in the jail. The prisoners' persons were also checked for restricted items.
According to sources at the jail, however, no prohibited items were found in the possession of any of the inmates or in the barracks. They added that no one was allowed to enter or leave the premises while the search operation was being carried out. The family members of prisoners, arriving to visit them, were made to wait outside until the operation was completed.
The sources claimed the operation began around 4am and ended at noon, adding that such exercises, with law enforcement agencies visiting the prison without prior notice, had been carried out in the past too.
According to a jail official, a massive search operation had taken place at the jail after two alleged militants, Ahmed alias Munna and Mumtaz alias Firaun, escaped from the prison in 2017. During this operation, a large number of restricted items, including drugs, televisions, mobile phones, SIM cards and others, were found in the inmates' possession.
Following the jailbreak and this discovery, the jail administration had been replaced, with the superintendent and other staff members being arrested and booked as well.
The current jail superintendent, Muhammad Hassan Sahito, also conducted a combing operation following his appointment. No contraband items have been found at the prison following this.
Published in The Express Tribune, July 18th, 2020.