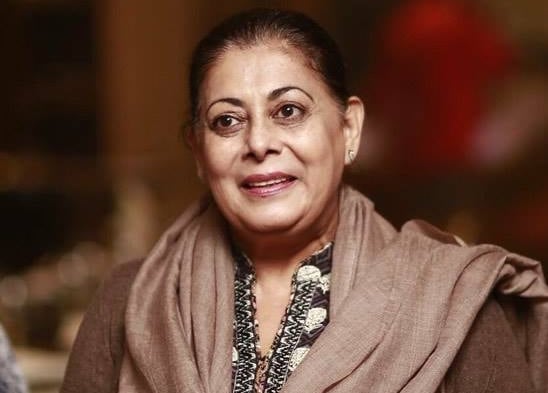 ---
KARACHI:
Decades of artistic contribution, acting prowess and years of meaningful activism, there's much that senior actor Simi Raheal has lent to the Pakistani entertainment industry.
If all that wasn't enough, Simi has now branched out on to YouTube, sharing videos under the alias of Notty Nani. One look at her content, and the first thing you pick up is her apt social commentary veiled under stealthy humour – something that we don't get to see often enough on our TV screens.
So what exactly drove her to use YouTube to channel her idiosyncrasies? The answer lies in Simi's drive as an educationalist – she is a professor at the Film and TV department at the Beaconhouse National University (BNU) for the past four years. "Since I dabble in teaching, it is very important that I learn constantly and evolve. And if my subject is communication, it's even more important to keep myself updated with who I'm talking to, what I am saying and why it's relevant," she shares with The Express Tribune.
In fact, Simi believes that no matter what her area of teaching may be, the fact that she mostly teaches the youth calls for her to speak 'their language.' "If I do not understand their need, then I am obviously teaching them nothing. That was the reason to explore YouTube because it is a portal that is watched by everyone and a lot of youth," she explains endearingly.
Watching Simi's content is a refreshing retreat from the regular YouTube milieu of makeup and style gurus, everyday vloggers, or review channels. Her's is satirical commentary packaged like a humourist's dream; simple and effective. "I keep my eyes and ears open, I go through social media and I assimilate what is relevant and analyse through the lens of 'what were the teachings of my growing-up years, what did my grandmother say and what do people say about situations?'" she says.
"I pick a subject, and I walk and think about it. I sit in silence and think about it and I try to come up with something. And then I sit in my car, which is like my mini studio, face the sun; take out my phone and in one go, record it. Rarely do I redo it, very rarely! It is as simple as that."
For a seasoned and well-read artist as her, that's all it takes. But, that doesn't mean that her content has the same kind of pull as the reigning 'popular' content. Her being on YouTube itself is a testament to the fact that her work has been turned down on more than one occasion. "When I wanted to develop this content, I went from pillar to post for six months trying to sell my idea to young people and various production houses, but unfortunately they didn't get it," Simi says without an air of dejectedness.
Simi also believes that there's a greater need for social commentary at this point in time than ever, because as she says, "People have personal perspectives about everything, everybody knows everything." Quoting Alice in Wonderland, she says, "If you don't know where you're going, any road will do," adding how "social commentary is something that is part of diversity, acceptance and individuality. One needs to comment on social attitudes to remind people where we're going."
Her artistic leaning also stems from the fact that according to Simi, "humour is dead in our country now; crassness and vile language is confused for humour." This is the reason why she feels a simple, bare-boned humorous take on our current state as a society is so important, and what she wants to set into ignition. "This confusion needs to be eliminated because humourists are another breed of people," she insists with a sense of urgency.
"Has this generation read Oscar Wilde or P.G Wodehouse?" she questions, adding that Shoaib Hashmi and Anwar Maqsood are great inspirations to her – she regards them as great satirists and genuine humourists.
Having invested much of her youth and her talent in the industry for the majority of her life, Simi still has one goal in sight – one she is determined to achieve. "Mai dastaan goh hun, hum sab dastaan goh hain (I'm a storyteller, we're all storytellers.) We all have stories from the beginning of our lives to where we are today, and I have one," she says.
"I'm now trying to sell this new idea which is endlessly designed but nobody is really listening right now. So, if some corporate partner comes on board, I might share it with them."
Have something to add to the story? Share it in the comments below
COMMENTS
Comments are moderated and generally will be posted if they are on-topic and not abusive.
For more information, please see our Comments FAQ