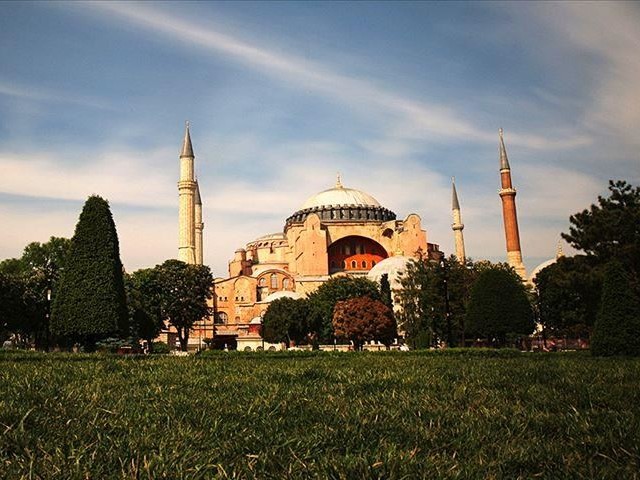 ---
ANKARA:
The first prayers will be held in Turkey's Hagia Sophia on July 24, President Tayyip Erdogan said on Friday, after declaring the ancient monument was once again a mosque following a court ruling revoking its status as a museum.
Erdogan said the nearly 1,500-year-old Hagia Sophia would remain open to Muslims, Christians and foreigners, but added that Turkey had exercised its sovereign right in converting it to a mosque and would interpret criticism of the move as an attack on its independence.
Erdogan made his announcement just an hour after the court ruling was published, brushing aside international warnings not to change the status of the monument that is revered by Christians and Muslims alike.
The United States, Russia and church leaders were among those to express concern about changing the status of the UNESCO World Heritage Site, a focal point of both the Christian Byzantine and Muslim Ottoman empires and now one of the most visited monuments in Turkey.
"The decision was taken to hand over the management of the Ayasofya Mosque. ..to the Religious Affairs Directorate and open it for worship," the decision signed by Erdogan said.
The Council of State, Turkey's top administrative court, said in its ruling: "It was concluded that the settlement deed allocated it as a mosque and its use outside this character is not possible legally.
"The cabinet decision in 1934 that ended its use as a mosque and defined it as a museum did not comply with laws," it said, referring to an edict signed by Ataturk.
Applause
Hundreds of people gathered near Hagia Sophia celebrating the ruling. "Those who built this did it to worship God as well," said Osman Sarihan, a teacher.
"Thank God today it reverted to its main purpose. Today God will be worshipped in this mosque."
In parliament in Ankara, AK Party members stood and applauded after Erdogan's decree was read aloud.