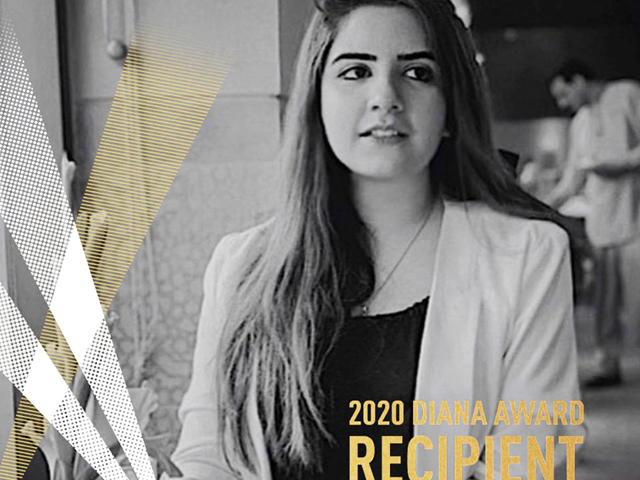 ---
LAHORE:
Five Pakistani youngsters have made the nation proud for winning the prestigious Diana Award 2020 for making exceptional efforts for the marginalised segment of the society and inspiring youth of the country.
The awardees include two girls – Raina Khan Barki and Nabila Abbas – and three boys – Muhammad Ahmad Toor, Umer Mukhtar and Muhammad Shohaib.
Raina, an 18-year-old girl hailing from Lahore, has been awarded for her efforts in female empowerment, health, education, and social entrepreneurship.
She is founder and CEO of a non-profit organisation called 'Zenana Foundation'. According to Diana Award Roll of Honour 2020 website, "Rain Khan has worked with hundreds of fundraisers and volunteers around the globe to set up free schools, start a skills training program for women and build an online marketplace for trainees to sell sustainable garments. These all facilitate self-sufficiency for young girls whilst also promoting environmental protection and sustainability."
Speaking to The Express Tribune, Raina said: "I have faced a lot of problems in my journey including from my teachers and friends but I never give up. My journey is only about to help others"
Raina said she started giving vocational training to students because marganalised people prefer money over education.
"Now, my foundation sells the products made by them and they get education with money in return," she added.
Umer Mukhtar, an 18 years old boy from Faisalabad, bagged the United Kingdom's award for his services to end inequalities through the power of literacy.
His earliest initiative, the 'Kitaab Foundation', provided under-funded schools across Pakistan with tens of thousands of books.
According to Diana Award Roll of Honour 2020 website, "Umer's Sadaqat Foundation raised $30,000 to build schools in areas where young people were lacking access to a quality education".
"Sadaqat Foundation is managing two schools and giving regular funds to hospitals, schools whilst managing a tree plantation drive. Kitaab Foundation is a subsidiary NGO which aims to collect and provide books to underprivileged societies. We have also provided the government with medical equipment during Covid-19 crisis", Umer told The Express Tribune.
Mohammad Ahmad Toor, a 23-year-old young man from Rahim Yar Khan, has won the global accolade for empowering thousands of youngsters through his organisation 'MAPS'.
According to the award's official website, "to date, Mohamamd Ahmad Toor has organised over 250 community empowerment seminars on the importance of, not just education, but physical and mental health, and the need to build a stronger society in which everyone supports one another."
Ahmad, while speaking to The Express Tribune, said he is aware of the importance of quality education as his father is also a teacher.
"People of South Punjab are deprived and have inferiority complex. Our organisation has made a positive impact on their lives, till now we have inspired 80,000 youngsters," he said.
Nabila Abbas, a 23 years old girl from village Choti Zareen in Punjab's DG Khan district, has been conferred with the Diana Award for providing education to the women and girls of rural areas.
"Nabila, from rural Pakistan herself, believes that women and girls shouldn't be at a disadvantage due to economic and political instability, or educational and cultural constraints. Nabila also created the initiative Aviation Literary Forum, which provides a space to encourage other girls to realise their dreams," reads her profile on the award's official website.
"In our locality, parents don't send their daughters to school. My father has set the trend by sending me and my sisters to school. We shifted to more developed area for education. Now, me and my sisters are an inspiration for our community," Nabila told The Express Tribune.
Muhammad Shoaib, a 24 years old young man from lower Kurram in Khyber-Pakhtunkhwa, received the award for promoting peace, education and working on healthcare initiaves.
Shoaib is CEO of 'Kurram Welfare Home', an NGO set up to counter violent extremism in Pakistan.
"After realising the law of FATA was different from the rest of Pakistan, Shoaib saw that many young people were struggling to access justice systems, were experiencing gender inequality and had limited rights to land, education and health. This was the catalyst for Shoaib to establish his NGO to motivate young people to use their skills to tackle these issues head-on. To date, Muhammad has supported over 500 young people to promote peace across various sectors, including health, education, disability, sports and democracy," according to his profile.
Shoaib, a son of a tractor mechanic, told The Express Tribune that the people of his area are deprived and they don't have access to basic public facilities incluing education and health.
"We have also engaged Afghan refugees and youth of [erstwhile] FATA in sports activities. Many of them have played at national level and few of them are playing in Afghanistan. We are promoting peace through sports," he added.
The Diana Award was established in 1999 by the British government in a bid to continue Princess Diana's legacy by establishing a formal way to recognise young people who were going above and beyond the expected in their local communities.
In 2006, it became an independent charity organisation and developed into a fully-fledged youth-led movement. It is the only charity set up in memory of Diana, Princess of Wales and her belief that young people have the power to change the world.
In 20 years, 49,000 selfless young people from across the world have been recognised for their social action and humanitarian work with the Diana Award.
The organisation has trained over 33,000 young people to stand up to bullying in their schools and communities through Anti-Bullying Ambassador training, and has supported nearly 2,000 vulnerable young people across the United Kingdom by introducing a positive role model into their lives through mentoring programme.