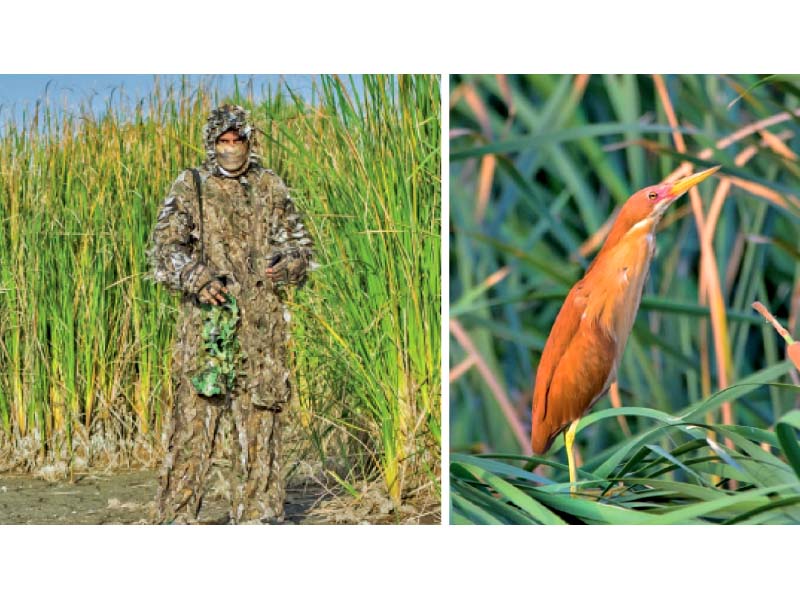 ---
KARACHI:
It had been a long wait - maybe an hour or two. Both of them sat in complete silence, taking in the stillness of their surroundings with rapt attention. Both were focused, their senses heightened so as not to miss even the slightest of movements and the right moment to strike.
They were each other's sole companions in the wilderness and even then, one failed to notice the other's presence, despite the slither of the latter's coarse skin against his back and the rustling of its talons against his clothes. So engrossed was Yasir Munir Pechuho, sitting tight on the lookout to snap a rare species of bird, that he failed to realise the presence of a monitor lizard resting atop his shoulder.
Now, as the 30-year-old self-taught wildlife photographer from Sindh recalls that experience, he laughs off the impending risk to his safety, saying, "I did not even realise I was in danger." And had he realised, he might have missed an opportunity to get a step closer to accomplishing his goal of photographing all 329 species of birds found in Sindh.
That wasn't the only instance of Pechuho risking his safety for his passion. He often uses camouflage, becoming part of his environs so as not to scare away his subjects - and with this, animal attacks are not uncommon. "I've been attacked by dogs and birds in rural areas as I sat camouflaged or stood knee-deep in water."
And even then, he isn't always successful. There were times when he spent hours sitting idly in the jungle and had to leave without a single photograph. However, his unbridled ambition and passion for wildlife photography kept him going, taking him on travels to places far and wide - including Rann of Kutch, Lungh Lake, Haleji Lake, Rice Canal, Hamal Lake, Gorano Dam, Nagarparkar, Phusna Lake - where he spent days in search of rare birds.
"Wildlife photography is my passion, not my profession," he explained to The Express Tribune. "With each new shot, I am a step closer to achieving my target of photographing the 329 [species of] birds of Sindh."
So far, Pechuho's repository has photographs of 251 of Sindh's avian species, besides shots of 12 mammals and seven reptiles found in the province. However, he only built this treasure trove after a long struggle - and at the cost of his motorcycle.
From a humble background, he was long a daily-wage worker at a cargo company in Larkana. Back then, he would labour hard all day and went on excursions at night, pursuing his love for photographing the wild and the rare. He would travel miles for a single shot - without any surety he would get it.
Pechuho had begun practicing photography using manual lenses but later, he felt the need for a more advanced lens. With meagre resources, he sold his motorcycle, marking the beginning of his journey in wildlife photography.
Since then, Pechuho has mastered the art of portrait, macro, landscape, long-exposure and bokeh photography. But documenting wildlife continues to be his first love. One of his most notable feats includes photographing the White Browed Buschat this year, during a visit to Rann of Kutch. He is the only photographer to have snapped a photo of the bird in Pakistan since 1922.
He is also an authority on the birds of Sindh, with vast knowledge of the subject. However, he acknowledges the contributions of Indian zoologist Guru Partab Singh and Muhammad Akram Awam from Toba Tek Singh in equipping him with this knowledge. "Both of them guided me in recognising various species of birds and I consider them my gurus," he explained, adding that he got in touch with them online as he searched for ways to develop his knowledge of birds and polish his photography skills without spending much.
A six-month photography course, meanwhile, helped Pechuho improve his talents as he also completed a postgraduate degree in sociology. Now, armed with a degree, he looks forward to landing himself a job, but is nowhere close to abandoning his passion for photography. "I still have a long way to go."
Published in The Express Tribune, July 5th, 2020.