 ---
Many artists and art students are concerned that they can't change the course of this pandemic but they can surely draw inspiration from the situation they are in. We asked young National College of Arts students who are missing their studio and college sessions, how they used their creativity during quarantine.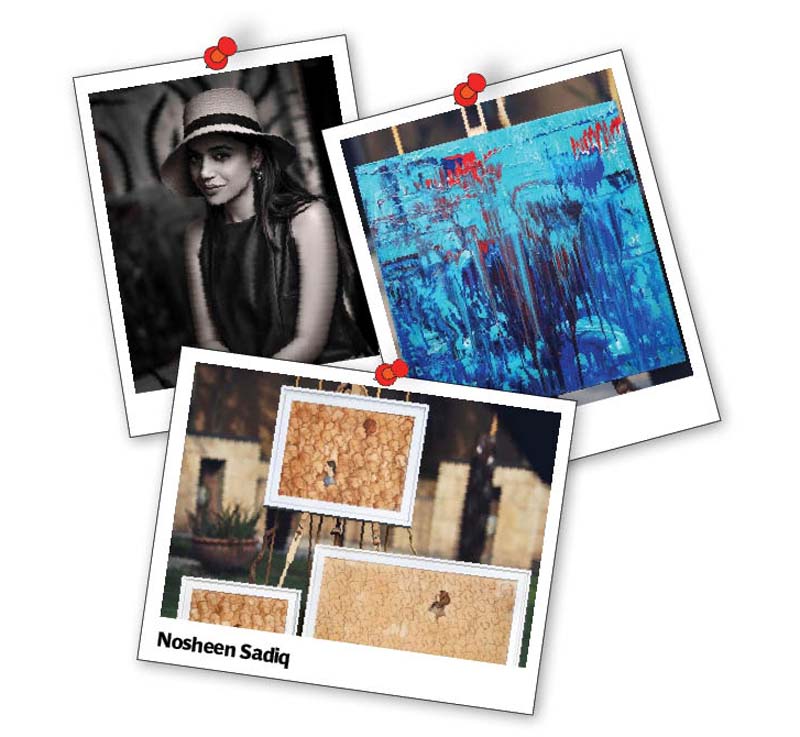 Nosheen Sadiq
2nd year fine arts- NCA
Did being in quarantine affect your creativity?
For me being in quarantine is just like being under the sky where we are all like birds, and just like these birds we are making our own paths.
Tell us about work that you finished in quarantine?
I completed few paintings during quarantine. The blue painting shows confusion. One can see fear and peace together and dark colours are used which indicate danger as well. Another painting of mine is based on hope. The bright colours and nature in it indicate hope for our future and how hope is an important part of this quarantine.
Your favourite artist who inspires you?
The artists which inspired me are: Frida Kahlo, Jackson Pollock, William T. Cooper. Frida Kahlo inspired me because she painted her personal experiences. Jackson Pollock used to show action movements through his stroke. And all of these are very well-know artist of their time and even today their work inspires many of us. Third painting of mine shows how different directions affect our lives. And in current situation if we live differently than others then it matters a lot and make a huge difference.
Irfan Abdullah
3rd year Painting & Fine arts- NCA
Did being in quarantine affect your creativity?
As an artist I am essentially interested in creating art works that call for the participation of the audience to the same extent as my involvement in it. I want people to see things from my point of view. I want people to experience the good times and the bad times I experienced while making art. Being an artist, and choosing this path to pursue has been a journey of emotional turmoil, guilt and fear and I don't like being judged because of where I am from and who I am. Time and time again, the neighbours in the village have tried to tear down my morale because what I create, they deem unacceptable and ridicule me but I want to show them the true, by trans-formative power of art and its necessity in evoking similar feelings in all types of people and uniting them through this powerful medium.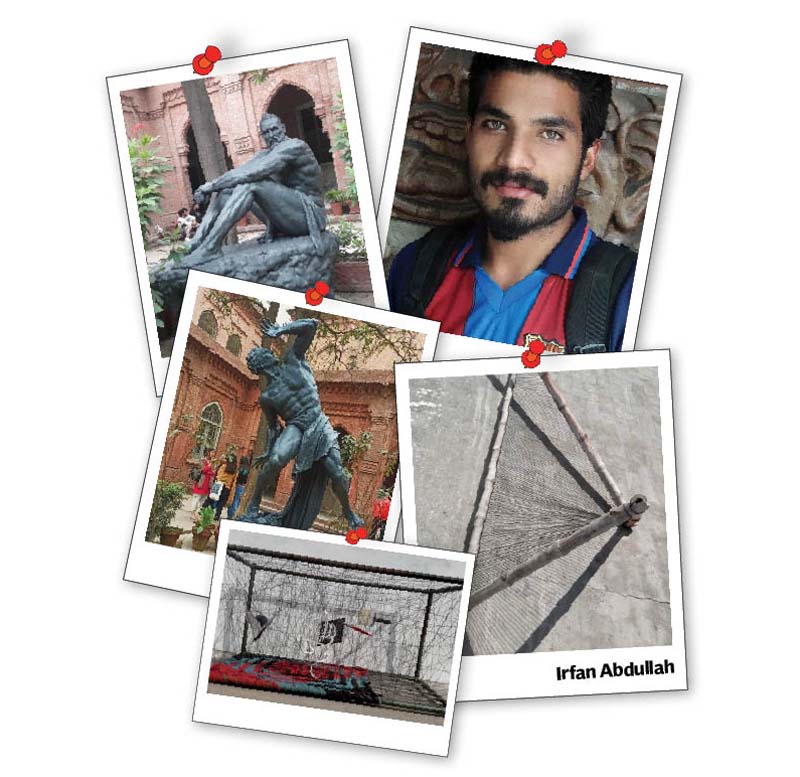 Tell us about work that you finished in quarantine?
Through my sculptures I tried to capture that fear which I have felt through observing muscular tensions in the body and face. Sculpture for me is a vessel to show my most visceral and honest feelings which words can't do justice to. In another quarantine project, I tried to capture the complexity and ambiguity of myself during pandemic situation. I used different kinds of drawings, spatial, installation, readymade and threads as lines to showcase my feelings. Calligraphic structure. Essentially, my area of interest is calligraphy. I gave a visual form to calligraphy through movements. I captured the rhythm, movement and continuity through thread lines which I felt in other art forms of subcontinent like music, tabla, sittar, bharatanatiyam, maroci, mohiniyattam, theyyam, padayani, onapottan and koodiyattam etc. In this work l tried to capture the key elements of these art works like rhythm, movement, continuity, linier etc.
Your favourite artist who inspires you?
Araeen is my favourite artist because he produced his works for the awareness of people. He created his art works for everyone, he fought for others. I can say his art, works as a means of social protest. May be this is a gift that an artist can give. Araeen constructed interwoven wooden structures and used different colours on them, to conveying his message.
Sajjad Roy
3rd year Miniature & fine arts- NCA
Did being in quarantine affect your creativity?
To be honest being in quarantine made me more focused and determined. I managed to flourish my skills as well as my thought process also improved. I read books, blogs, watched documentaries and films which helped me in broadening my horizons. Another skill that I mastered is the making of squirrel tail brush and luckily, I managed to earn some funds by selling these brushes. It's overall been really fruitful for me in quarantine. I think I got more time to think about myself, my ambitions and goals for life and work.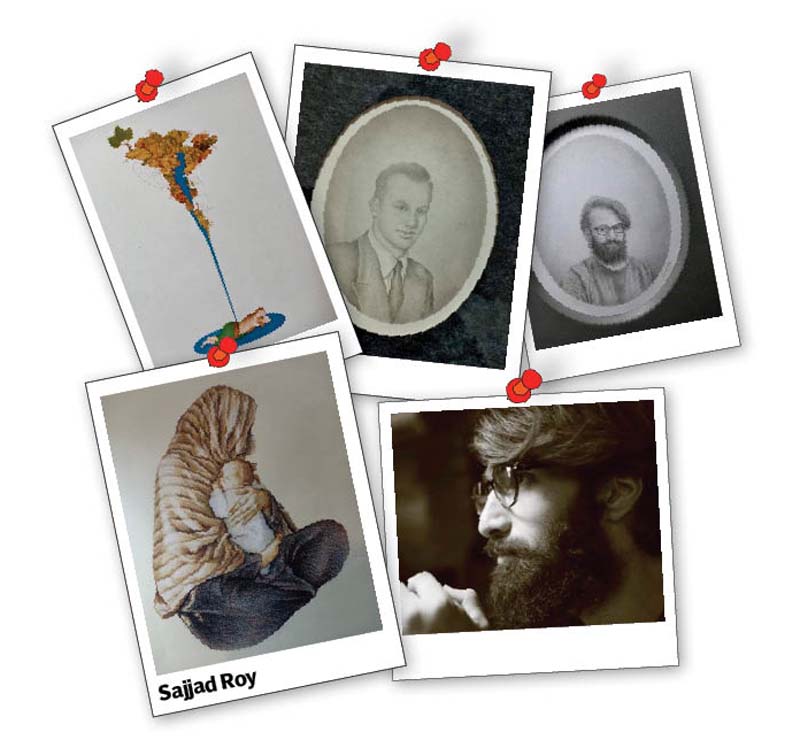 Tell us about work that you finished in quarantine?
I was already working on a few paintings before quarantine but right after the start of it we were given an assignment of recreating a Persian miniature. I started that painting and it is almost done. I am not interested in finishing it because we are not given any deadline and secondly, I have got enough time and room for experimentation. It is coming out quite well. I am trying my best to understand the drawing, stylization, palette and themes of the Persian school. Other than this work I also got a commission from a friend of mine. It was a portrait of a mother holding her child which I did in coloured pastel pencils. The title of this drawing was Motherhood.
Your favourite artist who inspires you?
During quarantine I came across a wonderful book on Indian artists. Its title is Faces of Indian Art. It is a brilliant read an insight into the Indian artists from the modern period. The artists that really inspired me from the book were S H Raza, M F Hussain, F N Souza and Raja Ravi Verma. Other than these artists I also got inspired by Persian miniature painters from the 16th and 17th century
COMMENTS
Comments are moderated and generally will be posted if they are on-topic and not abusive.
For more information, please see our Comments FAQ