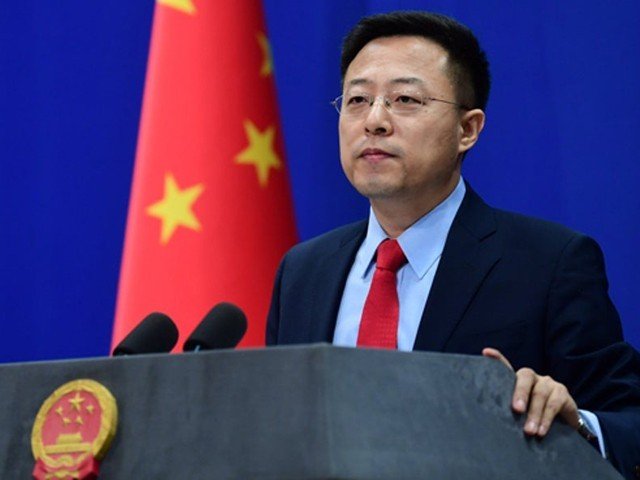 ---
ISLAMABAD:
China has condemned the gun attack on stock exchange building in Karachi and reaffirmed its support to Pakistan's efforts in combating terrorism and safeguarding national security.
Gunmen armed with grenades attacked the Pakistan Stock Exchange (PSX) building on Monday martyring two guards and a policeman before security forces killed all four attackers.
"China condemns all forms of terrorist attacks. We extend our condolences over the passing of the innocent victims and sympathy to the bereaved families and the injured," said Chinese Foreign Ministry Spokesperosn Zhao Lijian in a press conference.
The Baloch Liberation Army (BLA) had claimed responsibility in a post on Twitter. Pakistan declared the BLA a terrorist organisation in 2006 after its involvement in a number of terrorist attacks, targeting both civilians and security personnel.
"China firmly opposes terrorism in all manifestations and supports Pakistan's efforts to combat terrorism and safeguarding national security and stability," the spokesperson added.
Meanwhile, a senior aide of the prime minister on national security hours after incident hinted at the involvement of India behind the terrorist attack on the PSX.
"Pakistan's enemy is naked in its aggression. Make no mistake, today's attack in Karachi is state-sponsored terrorism against Pakistan. Our valiant countrymen and women have fought against this menace before and our resolve remains resolute," Moeed Yusuf said in a tweet.
Pakistan's enemy is naked in its aggression. Make no mistake, today's attack in Karachi is state-sponsored terrorism against Pakistan. Our valiant countrymen and women have fought against this menace before and our resolve remains resolute.

— Moeed W. Yusuf (@YusufMoeed) June 29, 2020