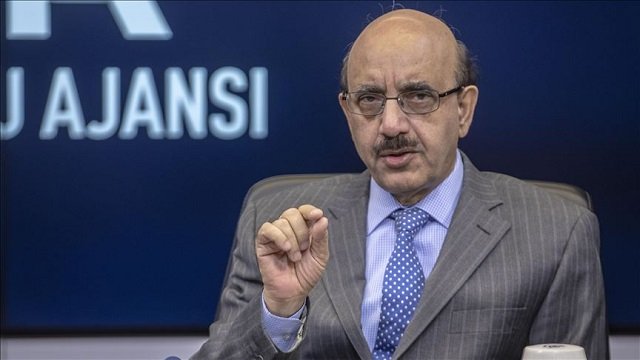 ---
MUZAFFARABAD: The Azad Jammu and Kashmir (AJK) President Sardar Masood Khan has welcomed the European Parliament's Research Service report on India saying that the report highlights the "hideous actions by the Modi government in occupied Kashmir and discriminatory treatments of the Indian Muslims".

Produced by the research section of the European Parliament, the report states that after the recommencement of the second tenure of Indian PM Modi's BJP, the situation in India regarding democracy, tolerance, rule of law, and freedom of religions had been changed.

The AJK president said international community's responsibility to resolve the long-standing Kashmir dispute cannnot be fulfilled by merely by expressing concerns over India's unlawful actions in occupied valley.

Modi-led BJP government is attempting to change the demography of IOJ&K on the pattern of Israel, he said adding that Kashmiri people have rejected all such moves.

"India is also trying to change the demography of Kashmir following the pattern of Israeli settlements in Palestine and people of IOJ&K never considered themselves as Indian citizens," he said.

Pakistan spurns Indian army chief's allegations of supporting 'terror group' in IOJ&K

President Masood said occupied valley was already under a lockdown since August last year and with the Covid-19 outbreak in the disputed valley, New Delhi has tightened the restrictions "which endangers the lives of Kashmiris".

Under the garb of this lockdown, the Kashmir youth are being martyred on daily basis, and then they are labeled as terrorists, militants, and secessionists though these youth are living in their own homeland which has never been the part of India, he added.

The AJK President Khan also highlighted the part of the report where it states that the "concept of democracy, tolerance, rule of law and interfaith harmony in India has been replaced by "Hindu supremacy" and Hindu nationalism which has threatened the future of the whole region".

"India has linked its citizenship to Hinduism which is a slap on its so-called secular face," he added.

The report has also criticised the amendment in Indian citizenship law, President Masood said, adding that the report clearly terms the amendment in Indian Citizenship law as the "Black law".

"If rights of any citizen in India will be determined on the basis of religion then this will be the death of India's so-called secularism," he remarked.
COMMENTS
Comments are moderated and generally will be posted if they are on-topic and not abusive.
For more information, please see our Comments FAQ