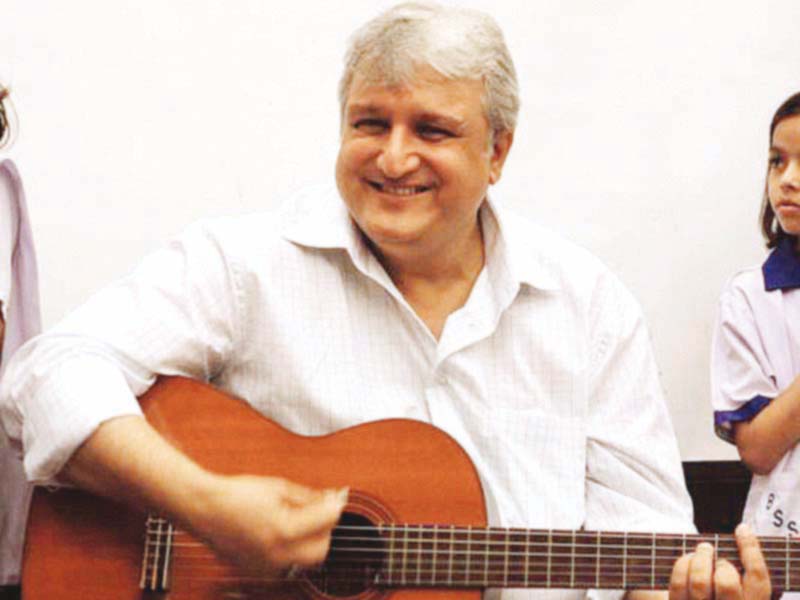 ---
KARACHI:
The myopic state of affairs when it comes to the edutainment of the younger lot through television in Pakistan is one thing that the intellectual elite would agree on. Despite it being a point of contention, not much has been done about rectifying the issue other than acknowledging the lack of effective kids programing in a broader sense.
Veteran actor and producer Khaled Anam, who for the most part of his career developed shows for children, believes that the present scenario - as far as traditional broadcasting mediums is concerned - is even worse.
"There is no children's programming in Pakistan. None at all," Anam told The Express Tribune. A major reason for that, according to him, is that the powers that be have only focused their attention on prospects that guarantee an economic return.
"Even when you see local films about children, they may be good but there's too much branding. Don't be like this. When they say 'we can't make money on children programming', I tell them that there are certain things in life that are not for sale. The future of your children is not for sale. For heaven's sake, wake up," he lamented.
Anam was of the opinion that another major issue that limited the growth of original children's programing in the country was how the concept of education became synonymous with the English language.
"Audiences will only be inclined to what you give them. It is the job of media and schools to make a product popular. We were singing Lab Pe Aati Hai Dua, Tot Batt', and Us Rab Ka Shukar Ada Kr' because we were being taught that in school. We were reading Shakespeare and Dickens in English classes and Faiz and Ghalib for Urdu," he pointed out.
"I fail to understand the priority of grown-ups today, so much so that we refuse to teach and talk to our children in Urdu. Why don't schools prioritise Urdu and/or give space to regional languages? People who are at the helm of such affairs, they don't want anything to do with Pakistan."
Being one of the driving forces behind kid's programming in Pakistan, Anam has previously headed countless shows including the very popular Indus Chotu. Now, instead of waiting for TV channels to realign their priorities, Anam is using YouTube to carry on his life-long ambition of providing quality education to children.
Under the banner of CEEP - the Urdu term for oyster – Anam puts up fun-filled rhymes in Urdu accompanied by colorful animations and aims to impart knowledge on to the new generation of children.
"When the lockdown came into effect and we were all cooped up in our houses, I thought I would start this as a program on PTV or somewhere. I even told them I won't charge them any money to churn out this stuff, which is essentially our own content in our own language.  For the past 500 years, we've been hearing Ba Ba Black Sheep and Humpty Dumpty. Why can't we make our own stuff?" he said.
"CEEP is about nurturing the younger minds to become better human beings. It's for children staying home irrespective of which segment of society they hail from. In today's world, children are neither fluent in English nor Urdu. CEEP is essentially for the masses, so they at least learn to respect their language," he said, adding that he intends on releasing the songs in other regional languages as well.
And the demand for children's programming is always there. Shortly after Anam had released a rhyme about the Urdu alphabet called Alif Bey Pey on PTV, he recalled that he was approached by a horde of Pashtun kids in Attock who recognised him. Not for his popular TV dramas but for the song Alif Bey Pey.
"A time can come when our rhymes will be as popular as Baby Shark, but for that to happen, our TV channels would have to play them," Anam concluded.
Have something to add to the story? Share in the comments below.
COMMENTS (1)
Comments are moderated and generally will be posted if they are on-topic and not abusive.
For more information, please see our Comments FAQ