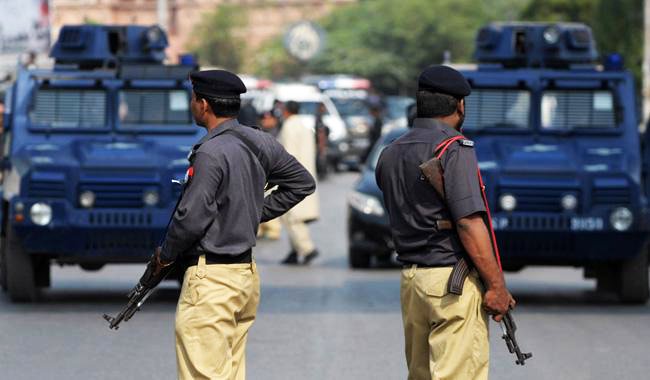 ---
LAHORE: A policeman succeeded to 'flee' from the court premises after the Lahore High Court (LHC) dismissed the pre-arrest bail he had filed in connection with an FIR registered against him for damaging a minor boy's left eye.

Hadiara police officials ran after accused Faizan, a constable by rank, but all in vain as he easily managed to escape from the scene despite being 'handcuffed'.

The victim's family termed the official's escape a trick by the Hadiara police officials who pretended they were running after him but they did not want to arrest him and provided him with the opportunity to flee from the court premises.

Karachi Police lose two to coronavirus

Talking to The Express Tribune, victim Sufyan said this the second time when police officials failed to arrest the man who damaged his eye. The first time the accused managed to escape from the sessions court premises and this is the second time when he escaped from the LHC. The boy said police officials were trying to protect their colleague.

An insider told The Express Tribune that police officials wanted to protect the accused official Faizan during the investigation that was why no statement from any witness from the area was recorded. Police officials did not arrange any meeting of both parties to hear their version to reach to a point as to why and when the scuffle had erupted.

Over 285 Covid-19 cases confirmed in Punjab police dept

Investigation Officer (IO) Sub Inspector Ahmed Mujtaba claimed the police official Faizan was not present at the spot while there was nothing on record that could establish whether the police officer was present or not present. No witness was summoned to properly investigate the matter.

A scuffle erupted between Sufyan and Nouman, brother of police official Faizan on kite flying. During the scuffle, the family members of Nouman also reached the spot and the accused attacked Sufyan with a knife on the chest, back of the neck and right side of the face.

Published in The Express Tribune, May 16th, 2020.
COMMENTS
Comments are moderated and generally will be posted if they are on-topic and not abusive.
For more information, please see our Comments FAQ