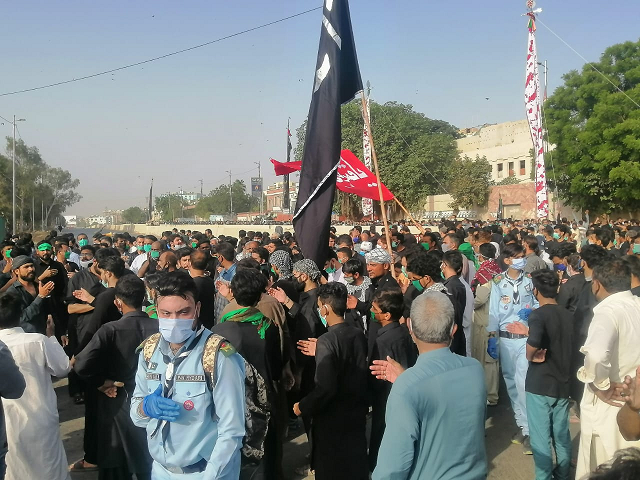 ---
LAHORE: After the federal and the provincial government banned processions during Ramazan, Lahore police sealed the route of the Yaum-e-Ali procession.

At least eight main points, including Katchery, Bhatti Gate, Data Darbar and Shah Alami were cordoned off, using containers and barbed wires.

Moreover, heavy contingents of police have been deployed at the main points which the procession used to pass. The walled city and these points will remain sealed till Friday night. Moreover, only the residents are allowed entry into the area.

Besides police, paramilitary forces have also been deployed to maintain law and order on the occasion.

Sindh restricts religious processions, gatherings amid Covid-19 fears

On Thursday, CCPO Lahore Zulfiqar Hameed visited Karbala Gamay Shah to review the security arrangements. The SSP Operations Faisal Shahzad and Chief Traffic Police Officer (CTO) Hammad Abid briefed him about the arrangements. Shahzad informed him that the whole area had been sealed, while Abid said all traffic from Peer Makki U-turn to Katchery has been banned.

DIG Operations Lahore Rai Babar Saeed said the government has banned processions in the last 10 days of Ramazan, including the Yaum-e-Ali procession, across Punjab.

The holding of Majalis at Imam Bargahs or at residences is allowed subject to fulfilment of the SOPs and directions issued by the home department and the Punjab government. He reminded the citizens that the SOPs included observing maximum one-hour timeline, limited number of participants with six feet distance, cleanliness of floors of Imam Bargahs with chlorine, restriction on participation of children and people above the age of 50 years and those suffering from cough, flu and fever.

Youm-e-Ali being observed across the country

He requested the administrators of Imam Bargahs to keep constant and close liaison with the local police to avoid any untoward situation.

He said all the stakeholders have been taken into confidence over not holding any religious gatherings or processions in the city in the wake of impending dangers of coronavirus. 

Published in The Express Tribune, May 15th, 2020.
COMMENTS
Comments are moderated and generally will be posted if they are on-topic and not abusive.
For more information, please see our Comments FAQ