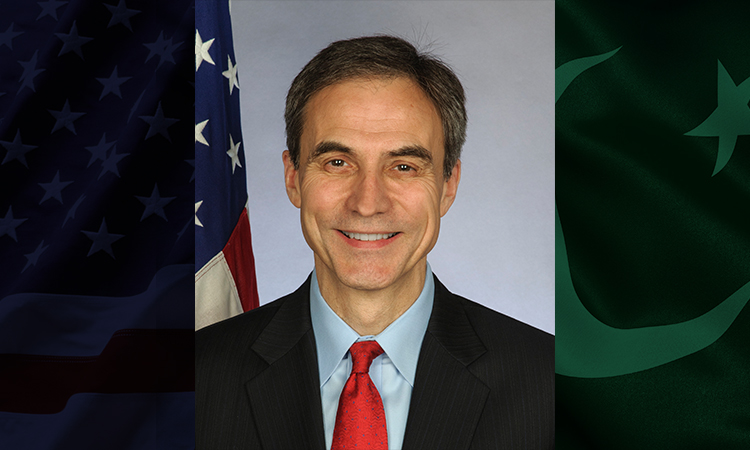 ---
ISLAMABAD: The United States focused on expanding its humanitarian, political and commercial cooperation with Pakistan amid and post Covid-19 pandemic to the mutual benefits of both the peoples and the countries, US Charge d' Affaires to Pakistan Paul Jones said on Wednesday.

Speaking at the Online Policy Dialogue Series on 'Pakistan-United States Cooperation amid Covid-19', Ambassador Jones said that Pakistan faced a grave crisis due to the Covid-19 pandemic and "the US wants Pakistan to succeed" in its fight against the virus.

The ambassador noted that the coronavirus pandemic had hit the US hard and still it was impacting huge number of people. He added that the US respected Pakistan as the country took its own decisions as an important country in the region.

The event was organised by the Sustainable Development Policy Institutes (SDPI). On the occasion, Dr Abid Qayyum Suleri, Executive Director of the SDPI said that both Pakistan and the US had devised appropriate strategies and policies to keep a fine balance between economy and health.

He raised certain questions, including the US-Pakistan cooperation amid coronavirus pandemic, the potential US support to Pakistan's plea for debt rescheduling and the impact of Covid-19 on the Afghan peace process.

Responding to these questions, Ambassador Jones said the United States was closely connected to Pakistani leadership since the pandemic broke. He said the US leadership believes that expansion in bilateral commercial and political relations should emerge stronger amid current situation.

He also talked about the issue of debt rescheduling request by Pakistan and the support of the US. Washington has also supported loans and grants to Pakistan from the International Monetary Fund (IMF), the World Bank and other financial institutions.

"We have now entered in health partnership with Pakistan on a long-term basis and [have] stepped up cooperation. Pakistan is among top priority countries in terms of the US health partnership on pandemic," Jones said.

"Within 48 hours of the request, the USAID has come to support the National Disaster Management Authority (NDMA) and others government agencies. The US has allocated millions of dollars in a new funding for Pakistan for testing of virus in badly-hit areas," he added.

The ambassador said that the US health support to Pakistan also included technical training and assistance.

"We are upgrading health emergency centers in provinces in the country," he told the audience.

On the Afghan peace process, Ambassador Jones said that the US provided support to the Afghan refugees and their host communities in Pakistan.

Published in The Express Tribune, May 14th, 2020.
COMMENTS
Comments are moderated and generally will be posted if they are on-topic and not abusive.
For more information, please see our Comments FAQ