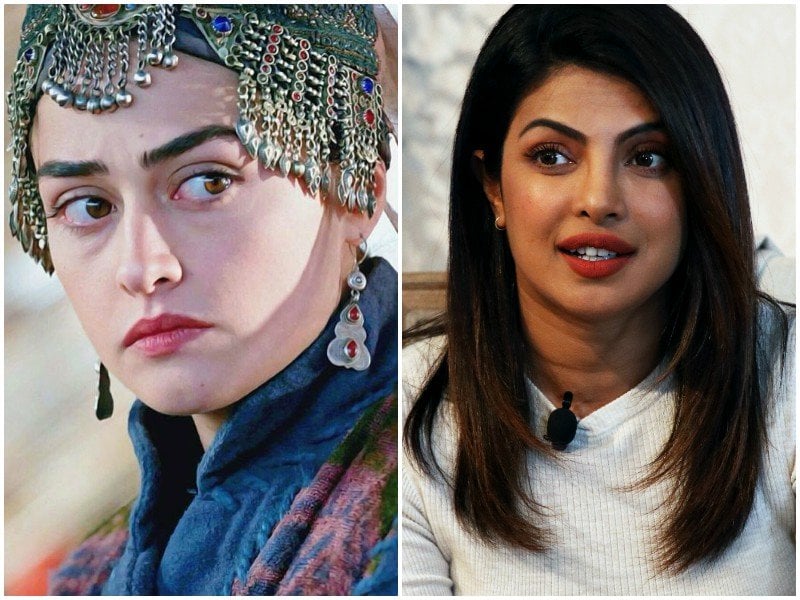 ---
Before Esra Bilgiç alias Halime Sultan was being moral policed by Pakistanis for her choice of clothing, the now-popular star was calling out Priyanka Chopra for warmongering.

In August 2019, the former Miss World uploaded a picture of herself with Sophie Turner and Danielle Jonas on Instagram. She captioned the picture with #WivesOnTour.

https://www.instagram.com/p/B049yw8HJVr/

Following this, in a completely unrelated and now-deleted comment, the famous Diriliş: Ertuğrul star wrote, "Being patriotic doesn't mean you should encourage war. You shouldn't belong in a conversation concerning war as a US Goodwill Ambassador. You affect many children, many as a role model."

Also read: Ertuğrul, crop-top dress, and a dog is all it takes to offend Pakistanis

With respect to Chopra's response to Ayesha Malik, the Pakistani woman who confronted her about allegedly encouraging war between India and Pakistan, Bilgic continued, "You were so disrespectful towards a woman who just asked you a question about your statement that you shared with millions of people in your own Twitter account."




Bilgic's comment was met with appreciation from various people everywhere, with Chopra's picture's comment section still showing several tagging the Turkish actor and lauding her.

However, it seems the Quantico actor never responded to Bilgic's queries and left the comment unattended.

Nevertheless, aside from her role in Diriliş: Ertuğrul, it seems Pakistanis have another reason to root for the Turkish celebrity. Especially, since a rare number of celebrities spoke out against the Bollywood star, even from Pakistan.

However, recently, the country's obsession with the show's characters took a flight for the worst when screenshots from the actor's Instagram profiles revealed the dark, albeit hilarious, side of Pakistani fans.

Also read: The personal life of Ertuğrul stars is too hot to handle for Pakistanis

Many had gone on to relentlessly moral police Bilgic for donning a cropped top, while others criticised Engin Altan Duzyatan, the actor who plays Ertugrul Ghazi, for owning a pet dog.

Here's hoping that our people realise that actors are actual people in real life and cannot and don't have to emulate the characters they play on-screen.

Have something to add to the story? Share it in the comments below. 
COMMENTS
Comments are moderated and generally will be posted if they are on-topic and not abusive.
For more information, please see our Comments FAQ