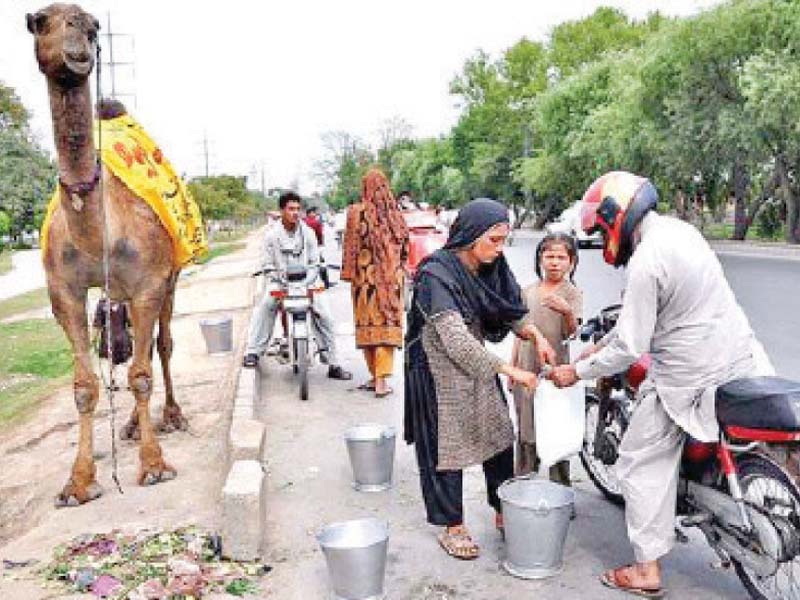 ---
LAHORE: Even as Covid-19 continues to disrupt the demand and supply of various items, it appears the provincial capital still has a market for camel milk.

On sale along the banks of the Lahore Canal, sellers, who come from Punjab's gypsy communities, bring this rare item for the rare customers.

"It sells instantly," said Muhammad Razzaq, who sells the milk in the provincial capital.

Not too long ago,  the sale of camel milk failed as an experiment in Lahore. Since then, members of the nomadic community bring the rare item and sell it individually.

Razzak said it takes two hours to sell the entire stock. "I've five female camels, and each of them can produce up to 10-12 litres of milk every day," he claimed.  Recognised for its health benefits all over the world, camel milk's sale is associated with nomadic communities in Punjab.  According to some experts, the milk is naturally semi-skimmed and three times as rich in vitamin C as cows' milk.  Packed with antibodies and vitamins, the milk, according to experts, is known to strengthen the immune system.

Pakistan, according to one expert, is home to certain breeds that are known for their milk production. "The ones found in the Cholistan area are known to be good producers of milk," he said.

With health awareness levels rising all over the world, it appears, consumers in Lahore are also making some wise choices -- at least when it comes to milk consumption.

"I started consuming camel milk when I was in Saudi Arabia a few years ago," said Khawar Hayat, a resident of Lahore. "It is healthy and helps to keep the immune system strong," Hayat claimed.

One consumer said: "Back in 2017, it was easier to find camel milk in the city. However, after the government-sponsored project failed, it became increasingly difficult to find camel milk in Lahore."

The quality of milk, he said, is not as good. "Due to lack of quality control, the milk appears to be less hygienic," said the irked consumer.   The sale of camel milk, he said, should be regulated.  Another consumer pointed out that lack of regulation has allowed sellers to make profits even while they sell diluted milk. "They add water to the milk, and when you argue, they refuse to sell it to you,"  claimed Muhammad Riaz, who regularly buys camel milk.

The sale of camel milk takes place at various spots in the city. Shahdara Bagh, a historic precinct located across the Ravi River from the Walled City of Lahore, has emerged as a popular spot camel milk sellers and buyers.  In some parts of the city, a litre of camel milk sells for Rs.200 or even more.

Published in The Express Tribune, May 13th, 2020.