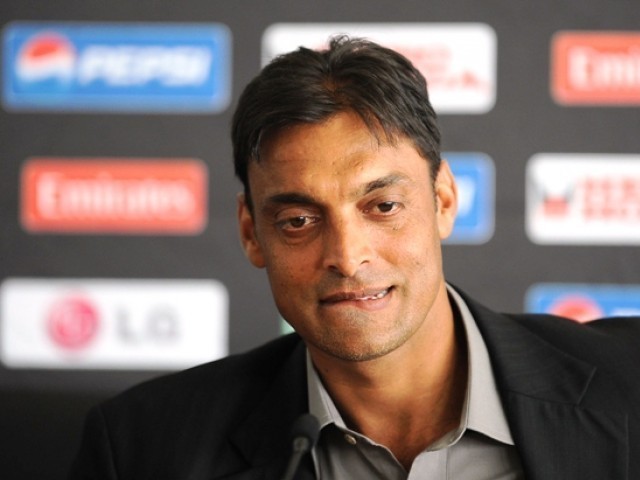 ---
Pakistan's former fast bowler Shoaib Akhtar has given a written response over the defamation notice by the Pakistan Cricket Board's (PCB) senior legal adviser Tafazul Rizvi.

Akhtar gave the written reply through his counsel Abuzar Salman Khan Niazi and contended that Rizvi tried to use the bar in this essentially inter-party dispute, with ulterior motives.

Earlier, the former fast bowler in his statement called into question Rizvi's performance as the PCB counsel and described him as "incompetent".

Rizvi in his defamation notice stated that Akhtar is
publicly known to have disciplinary issues throughout his career. Likewise, he claimed that Akhtar has been found indulging in indiscretions, indiscipline and unruliness.

Akhtar in his reply urged Rizvi to withdraw his statement by tendering an apology for defaming, ridiculing and humiliating his client in his defamation notice.

"The notice under reply is liable to be rejected in its entirety as the same is not the statutory notice envisaged by Section 8 of the Ordinance 2002," said the reply submitted by the cricketer.

It is also stated that Rizvi alleged in the notice that Shoiab has committed slander.

" For establishing such a claim you were required under the law to specify the statements/representations of My Client which constitute slander of which you are allegedly aggrieved. Thus, you have manifestly failed to point out any slander attributable to My Client, consequently, as per settled law of the land, the legal elements for constituting tort and offence of defamation are not established from the Notice under Reply. Accordingly, the Notice under Reply is liable to be rejected outrightly."

The reply further states that Rizvi in the notice gave intentions to donate Rs100 million damages to the Medical Center of the Lahore High Court Bar Association,

"You have attempted to pitch and use the Bar Association in this essentially inter-party dispute, with ulterior motives. Keeping in mind your rich family legacy of successful lawyers, as claimed by you, had you been genuinely bothered about the welfare of the Bar, you would have contributed at least a couple of millions in donation to the Bar in these hard and testing times of Covid 19. As per the knowledge of My Client, so far, you have contributed not a single penny in Covid-19 relief fund of the District Bar Association, Lahore. Likewise, to the best of knowledge of My Client, no contribution has been made by you in the Lahore High Court Bar Association," added Akhtar's reply.

The reply states that Akhtar is a renowned cricket commentator, analyst and journalist involved in gathering, assessing, creating, presenting and critically analyzing cricket related news and information especially the issues of public interest dealing with the Pakistan Cricket Board (PCB) and anything incidental or ancillary in relation thereto.

His opinions and analysis are highly valued by cricket fans for being fair, critical, rational and objective. He is regularly approached by international media, national media and people of Pakistan to seek his expert opinions on important issues with respect to cricket. In addition to that, he has his own YouTube Channel where he regularly expresses his opinions regarding cricket.

In his capacity as a cricketer, he has had close dealings with the PCB and its affiliates. He is a fairly sought after cricket commentator, critic analyst and journalist, said the reply.

"My Client is a former world class cricketer who retired from international cricket in the year 2011. He is acknowledged and admired all over the seven continents. His accomplishments are innumerable, he has been source of immense pride to Pakistan. He is recognized as the fastest bowler in the history of cricket, delivering a world record top speed of 100.23 mph during the 2003 Cricket World Cup. He was nicknamed "Rawalpindi Express" as a tribute to his hometown and express fast bowling. The eminent Pakistani Supreme Court Judge, Late Rana Bhagwandas, once stated that Shoiab Akhtar is a legend of Pakistani cricket. The Guinness book of world records officially recognises My Client as the bowler to bowl the fastest delivery in the history of cricket."

"Since, you as a counsel of the PCB are paid your professional fees from the public exchequer, it is right of My Client to comment on your performance. You have represented the PCB in several legal and disciplinary proceedings over the years and My Client has witnessed some of these from close proximity and has formed an opinion about your role and performance. My Client has no personal animosity and ill feelings towards you, however, his analysis of your performance in the apex regulatory body of the cricket is entirely in the public interest and for better functioning of the PCB and its affiliates. The context of his analysis and his opinion as a cricket commentator, critic, analyst and journalist is important to take into account when understanding them. My Client's intention of voicing his opinions has always been about bringing awareness and shedding light on public affairs involving the game", further added the reply.

Niazi also said if Akhtar is dragged into "frivolous and vexatious litigation on the basis of such baseless allegations and unfounded insinuations" as contained in the notice, the same shall be defended vigorously.
COMMENTS
Comments are moderated and generally will be posted if they are on-topic and not abusive.
For more information, please see our Comments FAQ