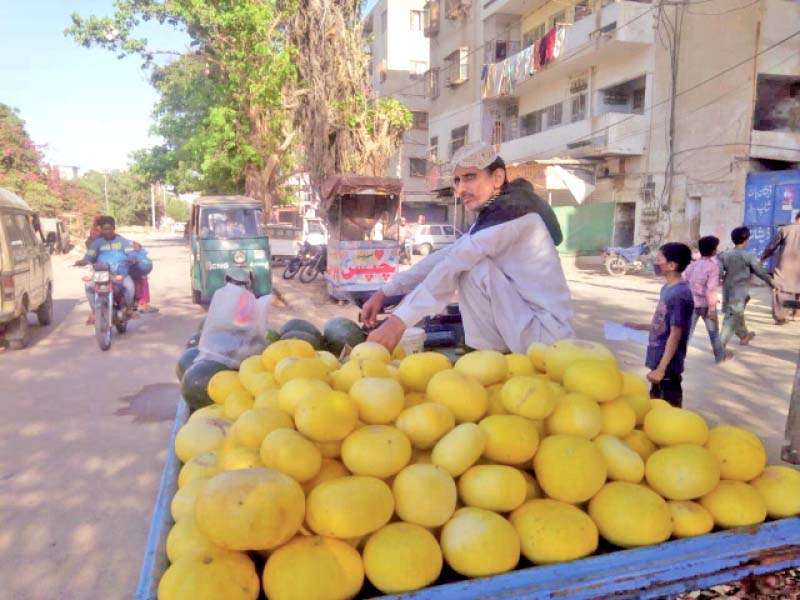 ---
KARACHI: Where the coronavirus lockdown has rendered hundred and thousands of people unemployed across Sindh, several in Karachi have started looking for temporary employment opportunities to make ends meet in times of uncertainty. A few of these people, either small business owners or workers in small businesses, have remained unable to receive adequate relief or financial help for various reasons, leaving them with little option but to fend for themselves.

Neighbourhoods across the city are seeing a sudden increase in the number of fruit and vegetable hawkers, as many looking for temporary employment have started renting carts and taking to the streets to work as produce sellers. However, this has led to a new supply and demand issue in the street-markets, where there are more sellers than customers and yet the prices have remained at an all-time-high given the decreased purchasing power of the people.

MNAs losing interest in budget debate

On the other hand, several fruit and vegetable sellers who have been associated with the business for decades have expressed their resentments about the city's markets being inundated with competition in a thinning customer base.

"In areas where there would be five to 10 vegetable and fruit sellers, the number has now gone to 20 to 25. This has created a trend of competition. Temporary vegetable and fruit sellers try to sell their goods at a lower profit, so they sell fruits and vegetables at higher prices in the morning and lower prices in the evening," expressed Abdul Majeed, an old hand at the trade.

According to Danish Teymouri, as a goldsmith, the lockdown had severely affected his business and left him and his workers on their beam-ends.

"We business owners aren't eligible for most aid and relief packages, plus I had my staff to cater to as well. So after some consultation and contemplation, I decided to buy a dozen carts and start selling fruits and vegetables. I gave one cart to each worker and now they buy produce at wholesale rates and sell it in various parts of the city till 5pm every day," he explained. "In this way, each cart earns me around Rs1,000 to Rs1,500, out of which I keep half and distribute the other half among my workers. It's not much but it's enough to put food on our tables until our actual business is restored."

FIA arrests man for deceiving woman over 'WAPDA job'

Similarly, Mohammad Basharat, a Kashmiri man who works at a tea hotel, said that the extended lockdown has put many tea-houses and dhabas out of business in the last couple of months. Basharat, who unlike his fellow workers neither had the funds to travel back home or buy vegetables, has taken temporary employment with an existing vendor in his area. "I got a cart for Rs100 day from a scrap dealer and now sell fruits and vegetable for local dealers from 11am to 5pm, which earns me around s500 a day," he shared.

Much like Basharat, Sheikh Rahim, a young barbecue worker, too has been forced to pause his profession and join the new troupe of vegetable and fruit sellers under the current economy.

"My hotel's been shut for almost two months now. Besides that, people don't have the purchasing power to buy meat right now and find it easier to buy vegetables and pulses instead, which are relatively cheaper. I had a chingchi rickshaw which we used for buying and transporting hotel goods. But since the hotel's shut, I have started selling fruits and vegetables on the rickshaw to survive in this economy," he narrated.

Muhammad Ibrahim Qureshi, a scrap dealer, told The Express Tribune that scrap-work has mostly been suspended due to the lockdown. Instead, the majority of his income the past couple of months has come from renting carts to the new vegetable and fruit sellers who have emerged in the city. "We have some 80 to 100 carts which I have been renting for Rs100 a day to make ends meet. However, the excess demand has created a severe shortage of carts in the city and new carts which would once sell for Rs10,000 to Rs12,000 are now being sold for as much as Rs15,000," Qureshi informed.

Published in The Express Tribune, May 12th, 2020.
COMMENTS
Comments are moderated and generally will be posted if they are on-topic and not abusive.
For more information, please see our Comments FAQ