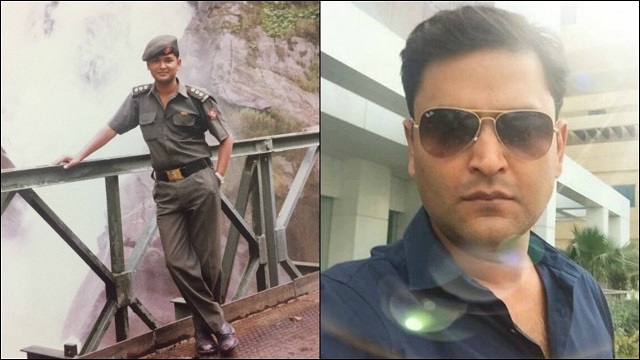 ---
KARACHI: New Delhi is no stranger to issuing hyperbolic statements and  war rhetoric against Pakistan with the Indian army's retired major Gaurav Arya at the forefront of those spewing hatred from television screens.

Gaurav, who serves as the consulting editor for Republic TV and a host for one of their shows, went as far saying,"Now you will see how the blood of their [Pakistani] soldiers will be shed in Balochistan."

He was sitting in as a guest during a televised debate hosted by Arnab Goswami for the channel.

He continued his rant,"Hum inkey hawaa nikaal dengay.hawaa [You just watch what we do with them...just watch]".

The hardliner is known for his hawkish views on foreign policy with Pakistan.

He went on to claim that he had the numbers of all of the sardars of Balochistan,"Bugti, Marri, Mengal...you name it... I will send it to you with their locations".

As the outragous outburst went on, the defense analyst claimed New Delhi would make "Pakistan pay ten folds for its actions in Kashmir".

While Pakistani defense expert Qamar Cheema was repeatedly interrupted and not given a chance to respond to the outright lies in the debate.

New Delhi under fire over video of Indian soldiers humilitating Kashmiri youth

Cheema, however, then appeared on Gauruv's very own television show as his guest a day later, where he was asked about the situation in Balochistan.

"Gaurav sahab, You have become quite the hit in Pakistan after your recent comments," Cheema quipped.

"We started taking what you said seriously the day self-confessed Indian spy Kulbhushan Jadhav was arrested and the subsequent unearthing of the Research and Analysis Wing's network in the province".


Today Major Gaurav Arya interviewed me watch what I replied him about his statement ? pic.twitter.com/rcuLnWmMaV

— Dr. Qamar Cheema (@Qamarcheema) May 10, 2020


Jadhav, also a serving commander of the Indian Navy, was convicted in 2017 for fanning terrorism in Balochistan and Karachi, almost a year after his arrest in the largest province of Pakistan.



Cheema said that Islamabad had handed over a dossier to the Indian government detailing New Delhi's attempts to destabilise Pakistan.


Today Major Gaurav Arya interviewed me watch what I replied him about his statement ? pic.twitter.com/rcuLnWmMaV

— Dr. Qamar Cheema (@Qamarcheema) May 10, 2020


Last year, self-exiled Baloch separatist leader Brahamdagh Bugti, who is accused of terrorist activities in Pakistan, formally applied for asylum in India.

The Indian media was once again quick to hail the leader of the banned militant organisation as "a hero".

Backlash

Balochistan Chief Minister Jam Kamal took to Twitter once the clip went viral quashing Gaurav's allegations as him living in a "fool's paradise".


Indians and their so called few phone directory contacts are living in a fools paradise.. https://t.co/Xj3znhIucO

— Jam Kamal Khan (@jam_kamal) May 10, 2020


While Senator Sarfraz Bugti strongly condemned his remarks, claiming it was merely a desperate attempt by the Indian army veteran to land himself a better job.


Dear @majorgauravarya all your Bugtis, Marris & Mengals contacts have scurried from #Balochistan & your payroll information is outdated. Since your retirement Balochistan has changed alot.
Your wet dreams won't land you a new job. In the meantime, keep prattling on Arnab's show. pic.twitter.com/ZpDm08vODC

— Senator Sarfraz Bugti (@PakSarfrazbugti) May 9, 2020


Similarly, journalist and television personality Hamid Mir also lashed out saying the threats made on live television "were more than enough to start a war crimes case against India".

He tagged Foreign Minister Shah Mehmood Qureshi in the post.


There is no comparison of Jammu & Kashmir with Baluchistan there are UN resolutions on J& K there is no UN resolution on Baluchistan secondly threats made by a former Indian Army officer on a TV channel are enough for making a war crimes case against India @SMQureshiPTI pic.twitter.com/SA0WC1yFvY

— Hamid Mir حامد میر (@HamidMirPAK) May 8, 2020
COMMENTS (2)
Comments are moderated and generally will be posted if they are on-topic and not abusive.
For more information, please see our Comments FAQ