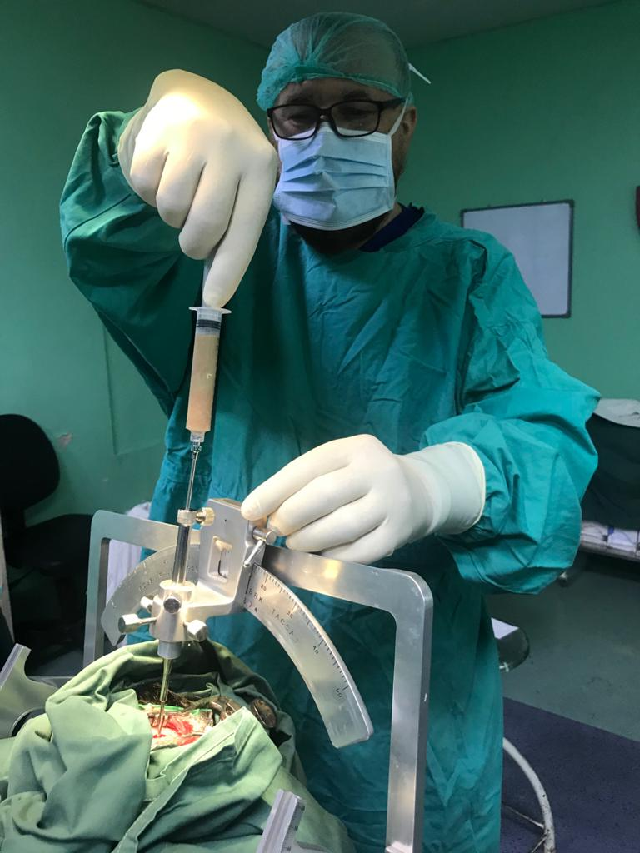 ---
KARACHI: For the first time in the country's history, life of an 11-year old boy, who had a 10 cm tumor in his brain, was saved using highly sensitive and complex technique of stereotactic neurosurgery performed at a private hospital in Karachi.

Stereotactic neurosurgery is a form of surgical intervention that locates small targets inside the skull using a three-dimensional coordinate system and performs several types of procedure on them.




Under the procedure performed at the Neurospinal and Cancer Care Institute (NCCI) in Karachi, a tiny hole was drilled in the child's brain and 200 mm tumor was extracted through syringe.

Dr Sattar Hashim, a renowned neurosurgeon and specialist in the complex and highly sensitive stereotactic neurosurgery, told The Express Tribune on Saturday about the first-of-its-kind treatment which saved the life of young Sahayan, who was suffering from severe headaches.

JPMC to get second CyberKnife robot

Doctors at various hospitals had suggested an open brain surgery which is a costly procedure and the child's family was unable to afford it.

Seeing the plight of their child, the family posted Shayan's picture with details of his illness on social media sites, appealing for help.

Subsequently, Dr Adnan Majeed of Bait-ul-Mal Karachi with the help other philanthropists approached the NCCI management and got the 11-year old admitted at the hospital.

Professor Sattar Hashim said the NCCI Hospital management treated Shayan free of charge on the behalf of M Hashim Memorial Trust and he is now fully revered from the deadly illness.

He said following the surgery, the child's eye sight and ability to identify his family members and other objects was restored, which was affected by the tumor.

Dr Sattar said that open brain surgery can be avoided with the help of stereotactic techniques, which only treats the affected area of the brain.

Shayan's mother told The Express Tribune that her husband, Farooq, is a rickshaw driver by profession and her family faced great difficulties due to the illness of the young boy.
COMMENTS
Comments are moderated and generally will be posted if they are on-topic and not abusive.
For more information, please see our Comments FAQ