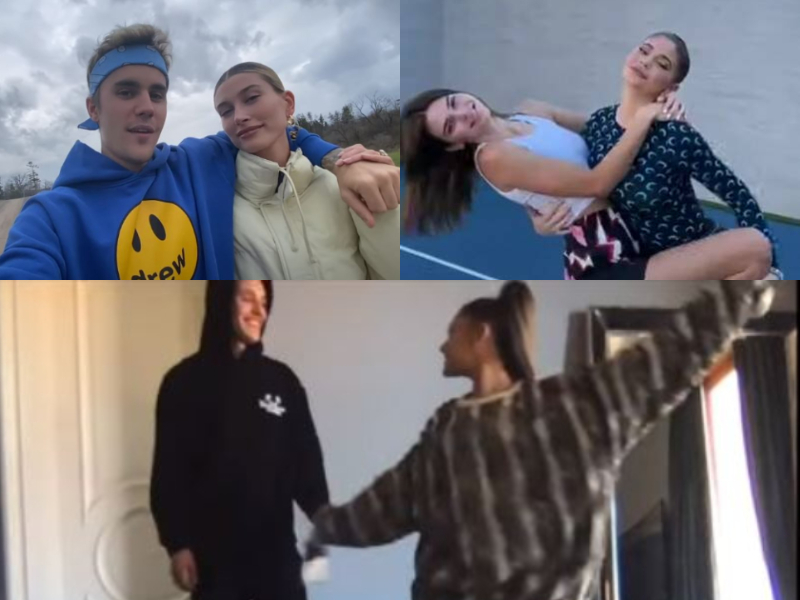 ---
Ariana Grande and Justin Bieber released their much-awaited lockdown track Stuck with U on Friday, and of course, they did not settle for less.

So what if the megastars could not put together a big-budget music video? They made sure to use their friendships and connections to put together an endearing montage of their high-profile fellow celeb friends quarantining with their partners. Literally, stuck with them!




That's not all. The video not only featured known celeb romances, but also featured Ariana's new boo - Dalton Gomez - who she was rumoured to be under quarantine with. Of course, the rumours were correct.




Apart from Justin and his wife, model Hailey Bieber, and Ariana and her boyfriend, fans also spotted Ashton Kutcher, Mila Kunis, Demi Lovato, Jaden Smith, Kylie Jenner, Kendall Jenner and Gwyneth Paltrow to name some! Now that's some friend list!




Kylie and Kendall Jenner make an appearance in the video, dancing with each other on a tennis court. Of course, the sisters are under lockdown together!


Mila Kunis and Ashton Kutcher have always been a fan favourite couple and this adorable moment between the two is too hard to ignore.




Demi Lovato also makes an appearance, dancing with who she called her 'main man', Max Ehrich.




Justin's longtime friend Jaden Smith also shows up for some seconds, singing along right next to Justin and Hailey!




Gwyneth Paltrow and Brad Falchuk also appear early on, dancing lovingly in each others arms. It's easily one of the most endearing visuals.




If all that wasn't adorable enough, all of Justin's younger siblings are a part of the video too! From Jazmyn and Jaxon Bieber to Allie and Bay Bieber, his half siblings.

Have something to add to the story? Share it in the comments below
COMMENTS
Comments are moderated and generally will be posted if they are on-topic and not abusive.
For more information, please see our Comments FAQ