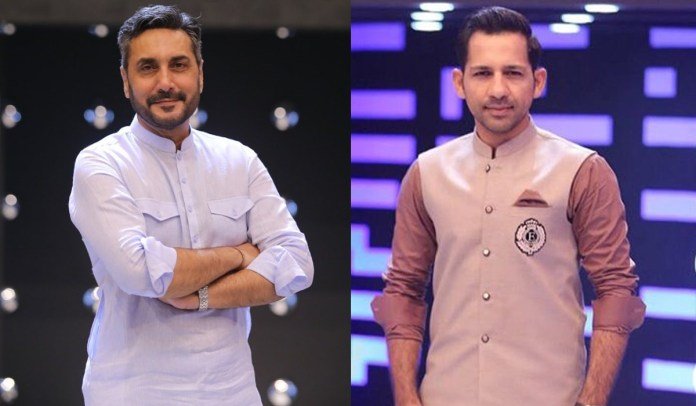 ---
Fahad Mustafa's popular game show Jeeto Pakistan has become one of the central forces of entertainment during Ramazan. This year it made headlines because of Mustafa's choice of dressing, and has now featured an insensitive joke by Adnan Siddiqui.

In it's recent episode, it featured the Lahore and Quetta Knights team captains, Siddiqui and cricketer Sarfaraz Ahmed respectively. With its PSL inspired format, the two exchanged jibes that attracted much attention, but not entirely for the right reasons.

Being rivals on the show called for a tug of words, but some moral lines seemed to have blurred for Siddiqui, which led him to cross boundaries he shouldn't have, according to his fans.

It was all fun and games until the Meray Paas Tum Ho star 'mocked' Sarfaraz's stuttering. Following this, several took to social media to express their disappointment in the celebrity who was recently upset with Aamir Liaquat for his 'crass' and 'insensitive' sense of humour.

Although the audience in the game show laughed at his response to Ahmed, Twitter was aflame with angry users calling out Siddiqui for his 'inappropriate joke'.

Several believed this mockery of Ahmed's speech disability was 'below the belt', 'insensitive' and 'ugly,' while others asked Siddiqui to apologise to the cricketer publicly.

Some obviously, also drew attention to Adnan's recent apology over what he felt were comments made in poor taste by Liaquat.

Here's what the users had to say:


Is this the same Adnan Siddiqui who condemned Amir Liaquat's crass joke? https://t.co/VgOSv9PfVs

— Saadia Ahmed (@khwamkhwah) May 6, 2020
Thats Really Disgusting Indeed !!

Making Fun of Someone Like this is Good ? Show Some Respect. He's Your Champions Trophy Winning Captain 🤦‍♂️ Ohhh GOD 🙏🏼

— Mani 🇵🇰 (@ManiTweets14) May 6, 2020
Disgusting@adnanactor apologize our cricket hero @SarfarazA_54#AdnanSiddiqui learn to be considerate & 2 have more empathy 4 others
Stop humiliating
Use ur energy to lift others rather than being cruel
Its finally time to stop making fun of ppl who Stutter #ShameonAdnanSiddiqui

— Khadija Drogba (@khadija_altkd) May 6, 2020
ADNAN SIDDIQUI IS CANCELLED. https://t.co/71oq4Ehtw8

— 😏 (@__maheeeen) May 6, 2020


https://twitter.com/romeoomustlie/status/1257936679794606081

https://twitter.com/d3sTruct11/status/1257978761460551680


Adnan Bhai, it is a natural disorder he was born with... If you don't have this disorder, you should thank God and should not be mocking those who have this disorder..

— Tariq Ahmed (@tariqahmeed) May 7, 2020
Adnan did the same what @AamirLiaquat did with Adnan recently. Aamir did sorry but will Adnan do the same?

Mocking on others' disability / disorder is shameful act

— Naumaan F Hassan (@nfhassan) May 6, 2020
If in the UK you could have been jailed for this! @adnanactor @fahadmustafa26 @Salman_ARY

— Faizan Irfan (@faizan_irfan) May 6, 2020
Have something to add to the story? Share it in the comments below. 
COMMENTS (1)
Comments are moderated and generally will be posted if they are on-topic and not abusive.
For more information, please see our Comments FAQ