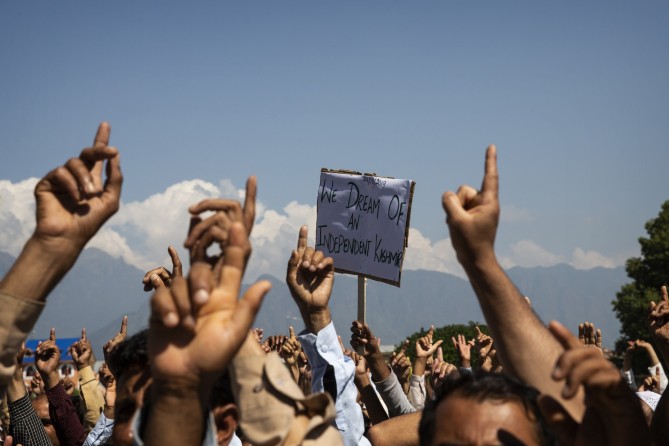 ---
NEW YORK: Three Kashmiri photojournalists working with the US-based Associated Press (AP) have been awarded the 2020 Pulitzer Prize in the feature photography for images made during India's harsh military clampdown on Jammu and Kashmir.

AP photographers Dar Yasin, Mukhtar Khan and Channi Anand snaked around roadblocks, sometimes took cover in strangers' homes and hid cameras in vegetable bags to capture images of protests, police and paramilitary action and daily life under occupation.

Then they headed to an airport to persuade travelers to carry the photo files out with them and get them to the AP's office in New Delhi, as a tight curfew and communications blockade posed a difficulty in showing the world the atrocities perpetrated in the occupied region, according to media reports.

India's head of constitutional body booked for speaking in favour of Muslims

The Pulitzers are generally regarded as the highest honour that US journalists and organisations can receive. In a statement on its website, Pulitzer said the Kashmiri photographers were selected for their "striking images of life" in Indian occupied Kashmir.






Yasin and Khan are based in Srinagar, while Anand is based in the Jammu district. Anand said the award left him speechless, according to AP news agency. "I was shocked and could not believe it," he was quoted as saying.






"It was always cat-and-mouse. These things made us more determined than ever to never be silenced," said Yasin – an engineering graduate from a family of celebrated photojournalists. Yasin had previously won the inaugural Yannis Behrakis International Photojournalism Award last year.






Among other awards, Alaska-based The Anchorage Daily News, and ProPublica won the Pulitzer for public service journalism for revealing one-third of Alaska's villages had no police protection, while the photography staff of Reuters won the breaking news photography award for Hong Kong protests.



The Courier-Journal in Louisville, Kentucky, took home the breaking news honor for its coverage of hundreds of last-minute pardons issued by former Governor Matt Bevin. The prize for investigative reporting went to the New York Times' Brian Rosenthal, who uncovered how thousands of New York City's taxi drivers had their lives ruined by predatory lending.

New wave of fascism rising in BJP-led India: AJK president

The Pulitzer Prizes, the most prestigious awards in American journalism, have been handed out since 1917, when newspaper publisher Joseph Pulitzer established them in his will. Monday's announcement had been postponed for two weeks because some journalists on the 18-member Pulitzer board were busy covering the coronavirus pandemic.

In normal years, the prizes are announced at Columbia University in New York. On Monday, Dana Canedy, who administers the Pulitzers, delivered the news from her living room via video, after weeks in which board members hashed out the finalists and winners remotely.

WATCH: Penguins chill during coronavirus pandemic while carers

"Ironically, the very first time the Prizes were presented was June 1917 — less than a year before the 1918 outbreak of the Spanish Flu pandemic," Canedy said. "During this season of unprecedented uncertainty, one thing we know for sure is that journalism never stops."