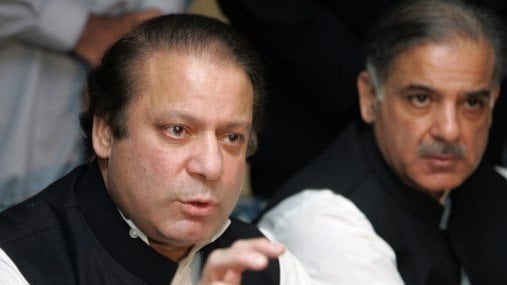 ---
LAHORE: A three-member bench of the Lahore High Court dismissed a petition filed by a freelance journalist Shahid Orakzai, challenging former prime minister Nawaz Sharif and Punjab Chief Minister Shahbaz Sharif's eligibility to contest elections.

Citing the main reason as being "non-prosecution", the bench, which had summoned Mr Orakzai on June 8, dismissed the case when he did not appear.

The petitioner contended that Nawaz had sold plots worth millions of rupees and transferred the money abroad.

Accusing the PML-N leader of having sponsored "Lotacracy" during his tenures, the petitioner alleged that Nawaz had manipulated the 18th amendment for the removal of inter party election to "retain his and his family monopoly in the party and national politics".

Orakzai had also requested the court to disqualify Shahbaz Sharif from holding the office of chief minister since June 21, 2008.

He submitted that when Shahbaz won the PP-48 Bhakkar seat and became the Punjab chief minister. Later, without resigning from that constituency, he also contested election on PP-10 Rawalpindi-X seat, and was elected unopposed but he resigned from this constituency.

The petitioner had submitted that under Article 223 (4) of the constitution if a person was elected from a new constituency, his earlier seat fell vacant. He pleaded that as PP-48 Bhakkar is still vacant therefore, Shahbaz is not entitled to hold the office of chief minister.

He argued that Shahbaz had been sworn in as the chief minister on June 8 as an MPA from PP-48, and under the Constitution, he lost this seat on June 21 after he was notified as the winner from PP-10.

He said instead of obeying the Constitution in letter and spirit, Shahbaz had chosen to bypass the given course by way of "a tricky resignation" from his second seat. The petitioner said that Shahbaz is adamant that he "can still hold his first seat in defiance of Article 223".

He said that the secretary of the Election Commission had made a public statement that the PP-48 constituency had been vacated after Shahbaz won PP-10 unopposed.  Qrakzai said that Shahbaz Sharif was no more the leader of the house in the assembly and as such he could not hold the office of the chief minister or participate in the meetings of the assembly or any committee thereof.

He requested the court to direct the Punjab chief secretary to "ensure the vacation of chief minister's office". He also requested that the Election Commission should be ordered to announce poll schedule for PP-48.

Published  in the Express Tribune, June 18th,  2010.
COMMENTS (1)
Comments are moderated and generally will be posted if they are on-topic and not abusive.
For more information, please see our Comments FAQ