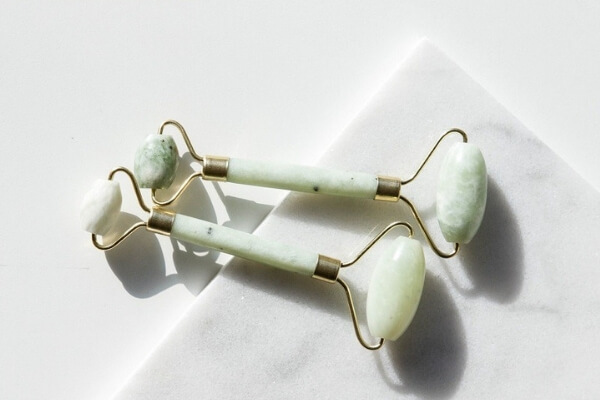 ---
If you've been anywhere near social media in the recent past, you would have seen a jade roller show up on your feed and it just so happens to be one of the most covetable tools in the beauty industry. Over the past few years the jade roller has gained much popularity however, the jade stone has been used in Chinese culture for hundreds of years. 

In Chinese culture, the jade stone represents beauty and eternal youth and it is also believed that rolling it across your face can result in youthful, glowing skin as the movement of the jade across the skin rids it of toxins and enhances collagen production. It is also believed that jade rollers stimulate blood circulation which in turn aids lymphatic drainage and detoxification. With that being said, we bring you five reasons to add a jade roller to your skin care regimen stat, as compiled from Lather.

1. No chemicals, no additives

One of the major reasons that beauty fiends rely heavily on a jade roller is due to the fact that there's nothing in it. A jade roller is made of jade stone and a stainless steel body, with no chemicals and no additives. What more could you want right? Jade rollers also come in a variety of colours so you can take your pick. Being free from synthetic materials, a jade roller can be used on any skin type. 

2. Soothing for the skin

A jade roller will quite easily just glide across your skin and is the best way to massage your face. Massaging your face with a jade roller is a whole different ball game as opposed to when you do it with your fingers. The smooth texture of a jade roller will preserve the skin's elasticity and roll out wrinkles, while soothing the skin. The two different ends of a jade roller can be used for different parts of your face. Pro tip: put your jade roller in the freezer 10 minutes before use. We promise you'll thank us. 

3. Hello glowy skin

Using a jade roller will increase blood circulation to your skin and with better circulation comes an increased amount of oxygen and nutrients flowing directly to its surface. You will instantly see results in the form of a rosy glow and a luminous complexion. Use the roller across your face in strategic motions and also on either side of the neck to enhance lymphatic drainage.

4. Smooths out the skin 

A jade roller is great for smoothing out the skin. We tend to make an array of expressions with our faces, including raising our eyebrows, frowning and raising our foreheads; all of which can create deep lines and wrinkles. Using a jade roller at the end or beginning of the day will help you relax your facial muscles and result in a smoother and more youthful complexion. Win win!

5.It will supercharge your other skincare products

This is probably one of the most important reasons to incorporate a jade roller into your skin care regimen. If you're using expensive skincare products but not correctly, then they won't be effective. For these to actually benefit your skin, they have to absorb into the skin. A jade roller will ensure that your serums and moisturisers are rolled into your skin effectively and provide your skin with all the hydration it needs.

If you don't have a jade roller or have one lying around that you've never used, it's time to put this tool to the test, stat!
COMMENTS
Comments are moderated and generally will be posted if they are on-topic and not abusive.
For more information, please see our Comments FAQ