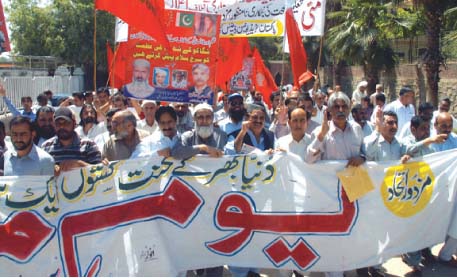 ---
LAHORE: Pakistan has a history of celebrating May Day as Labour Day, in solidarity with labourers of Chicago who were 'martyred' while striking for an eight-hour workday during the historic event of Haymarket affair.

Rallies and seminars on this day, in the country, could not be stopped even during the times of dictators. Labourers and students, using different forums including trade unions and progressive groups would assemble each year on May 1 and hold rallies on major roads of the city in Mall Road.

President, PM reiterate govt resolve to protect rights of workers on Labour Day

This could not be made possible in Lahore this year owing to the lockdown and implementation of Section 144 imposed in the wake of preventive measures against the spread of Covid-19.

However, the progressives of the city and labourers had found new ways to mark their day. They shifted their campaign for workers' rights online to keep the flag of the tradition 'raised'.

Different webinars were held on the occasion. Programmes were held online by Progressive Labour Federation to mark Labour Day.

Red Workers Front, an organisation working for workers' rights across the country, also held an 'online rally'. In the rally, workers and activists throughout the country from Gilgit-Baltistan to Quetta and Karachi to Kashmir participated.

Pakistan seeks ILO strategy to protect workers post-Covid

The online programme lasted for over five hours which was addressed by over two dozen political activists, teachers, factory workers, nurses, doctors, employees of WAPDA and others.

The rally was organised through the teleconferencing service Zoom and was available for viewing on the video-sharing site YouTube and on social media platforms including Facebook, Twitter, and Instagram.

Zainul Abideen, an organiser of the event said that the online campaign was successful as more than 12,000 people viewed the live event and the total number of viewers crossed 34,000.

Published in The Express Tribune, May 2nd, 2020.