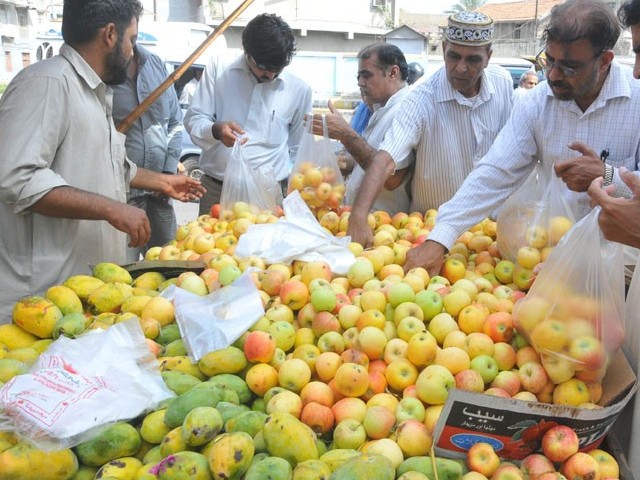 ---
LAHORE: To rein in profiteering during Ramazan, the provincial government has established a Price Control Cell at the Civil Secretariat under the supervision of Punjab Chief Secretary Jawwad Rafique Malik.

This cell is aimed to ensure a coordinated strategy to control profiteering. All divisional commissioners and deputy commissioners will send essential commodities prices and reports related to action against profiteers and hoarders daily. The Punjab chief secretary also directed officials concerned to take strict action against profiteers and seal all shops that do not display price lists.

He also directed the provincial secretary industries and field officers to expedite crackdown on profiteers and hoarders to provide relief to people during the holy month. He indicated that the federal government would be contacted for enhancing the supply of apple, dates and lemon to the province.

Following public hue and cry, Punjab Minister for Industries Mian Aslam Iqbal also paid surprise visits to check commodity prices in several areas of the city. He checked prices of different products displayed on roadside kiosks in Shadman. He also checked rates at fruit carts near Lahore High Court.

Finance adviser talks of corona-led budget

Several vendors, who were allegedly selling seasonal fruit at higher rates, tried to flee with their carts upon seeing district administration officials checking prices. District government officials seized all stock along with the carts. They also imposed fines on cart owners for not displaying price lists. The minister warned street vendors that the government would not allow profiteering during the holy month and strict action would be taken against violators of the laws.

District administration officials also checked prices in Gulberg Main Market and imposed fines over violations.

The district administration also slapped Rs100,000 penalty on a shop in the market for selling products at inflated rates and violating social distancing guidelines issued in wake of the coronavirus pandemic. Similarly, district administration official also arrested four vendors from Model Town flats over profiteering.

Despite raids in different areas of the provincial metropolis, gross violations of price lists were witnessed in different areas. A number of citizens complained about an exorbitant increase in essential commodities' prices, especially of fruit and vegetables.

A citizen, Muhammad Hanif, highlighted that no street vendors or shopkeepers are displaying price lists in Township area. They are selling commodities at their own prices and no government official is present to check prices. Earlier, he pointed out, the government set up Ramazan Bazaars to give some relief to the people during the holy month but this year owing to coronavirus pandemic the government has shelved the idea of establishing the makeshift markets.

Published in The Express Tribune, April 30th, 2020.