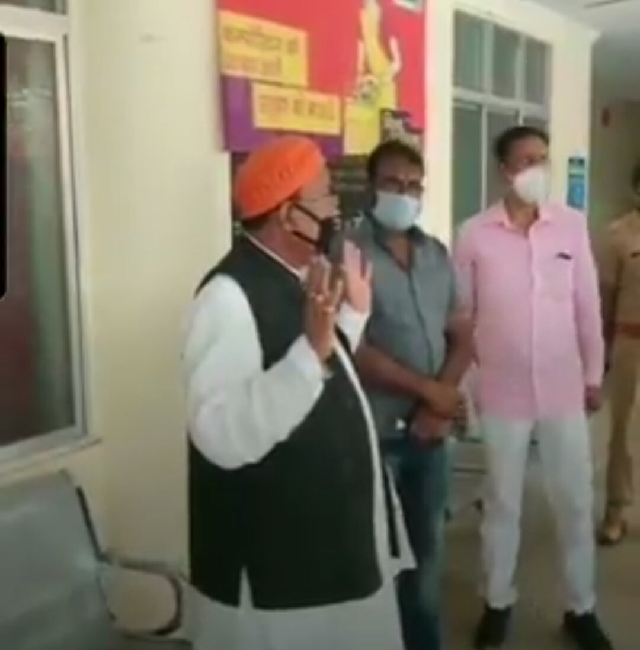 ---
NEW DELHI: Ruling Bharatiya Janata Party (BJP) lawmaker from Uttar Pradesh has landed in controversy after a video surfaced showing him asking consumers not to buy vegetables from Muslims amid a nationwide coronavirus lockdown.

"Keep one thing in mind. I am telling everyone openly. There is no need to buy vegetables from 'Miyas' [Muslims]," Suresh Tiwari from Deoria town can be heard saying in the video.


BJP MLA Suresh Tiwari told people in Deoria district not to purchase vegetables from Muslim vendors.
"Keep one thing in mind, I am telling everyone openly, no one should purchase vegetables from Miyas [Muslims]," he is seen telling people, including govt officials. pic.twitter.com/1K8YkSFBez

— Mohammed Zubair (@zoo_bear) April 28, 2020


India is facing job losses and hunger because of the coronavirus pandemic and lockdown but Muslim vegetable vendors and small shopkeepers are the most severely affected.

Indian Muslims have been targeted in different areas of the country following reports of an outbreak of Covid-19 at a religious gathering in New Delhi last month that was organised by Tablighi Jamaat.

Falsified reports and rumors accusing the Muslim community in general of spreading the virus have spread since the meeting.

"Covid-19 does not see race, religion, color, caste, creed, language or border before striking. Our response and conduct thereafter should attach primacy to unity and brotherhood. We are in this together," Prime Minister Narendra Modi said last week.

Samajwadi Party spokesperson Anurag Bhadoriya said authorities should file a case against Tiwari for talking against a particular community.

"At this time of crisis, he is busy spreading hate against a particular community. This shows how much he cares about humanity," Bhadoriya told Anadolu Agency.

The party spokesperson from Uttar Pradesh said everyone should avoid speaking such things.

"It is wrong to speak in such a way when we are fighting against pandemic. This division is not good for the society," Rakesh Tripathi told Anadolu Agency.
COMMENTS
Comments are moderated and generally will be posted if they are on-topic and not abusive.
For more information, please see our Comments FAQ