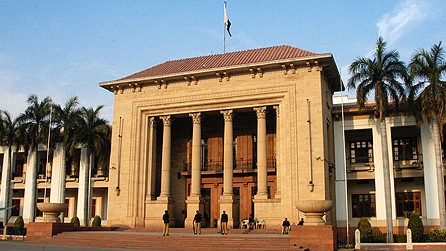 ---
LAHORE: Industrialists and agriculturals had a head-on confrontation in the Punjab Assembly, ahead of the opposition leader's budget speech.

Makhdoom Ahmed Mahmood mentioned a World Bank report pointing to the disparity in government expenditure. He stated that according to the report, the Punjab government was spending Rs3,500 per citizen in Lahore and only Rs400 per individual in Jhang.

He stated that although the government had allocated Rs52 billion for southern Punjab, he was not sure if it would receive its share.

Ashraf Chohan, a PML-N MPA and an industrialist, responded by stating that industrialists paid the most taxes. "International practice dictates that bigger cities always get more funds. Gujranwala is the leading tax paying city in the Punjab. It deserves to get the biggest budget allocation," said Chohan.

He then continued and stated that Ahmed Mahmood had developed a habit of disappearing after making tall claims. "He is used to nitpicking policies. If he feels so bad about it then he should elaborate on what he or his elders have ever done for South Punjab," added Chohan.

"The time has now come to kick out feudals from the assembly. They have lorded it over the working class for too long." stated Chohan.

"We should tax agriculture. We should also reward small families with free health care and education," he added.

Opposition member Chaudhry Sher Ali then dived into the conversation and stated, "I want to tell all the industrialists here that there is nothing they can do to stop our children from being elected. I would also like to remind everyone that feudal landlords were the ones who gave Mr Jinnah the money to run the country after the partition".

Published in the Express Tribune, June 18th, 2010.
COMMENTS
Comments are moderated and generally will be posted if they are on-topic and not abusive.
For more information, please see our Comments FAQ