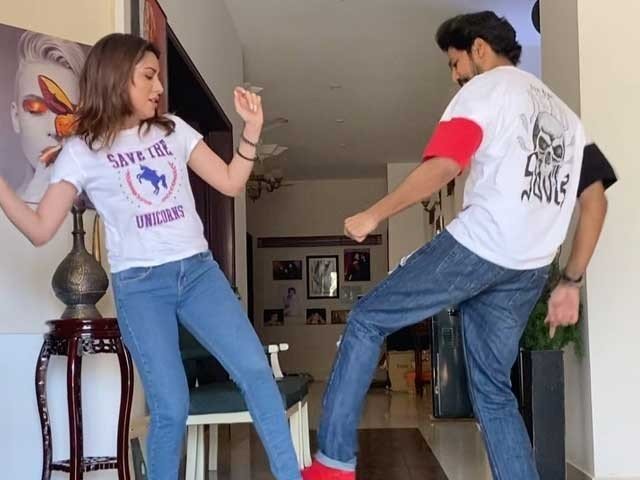 ---
The lockdown continues to extend and celebrities are forced to limit their entertainment to social media platforms while keeping themselves entertained by various online activities.

These virtual activities either include conducting online sessions or interacting with their fans and collaborating with other artistes. Some of them have even started their own Youtube channels - with the most recent being Saba Qamar - while others are participating in various TikTok challenges, just like the rest of us.

Popular actor and Tamgha-e-Imtiaz recipient Mehwish Hayat also uploaded a video of herself dancing with her brother to the beat of Oh Nanana. The celebrity said she only opted for this TikTok challenge because it allowed her to dance and have fun with her beloved sibling.

"Of all the internet challenges,this is the one that I opted for. Don't ask how long it took me to get Danish Hayat to rehearse these steps lol. In these difficult times, having fun with siblings and challenging each other is one of the few pleasures left. Never lose the inner child in you," remarked the star.

https://www.instagram.com/p/B_SowQmH_dd/

Hayat's fans loved her attempt and her latest video reminded us of the time she went viral for nailing the #BottleCapChallenge.


Challenge Accepted ! 👊🏻😈#BottleCapChallenge #JasonStatham pic.twitter.com/LayfQqNWbg

— Mehwish Hayat TI (@MehwishHayat) July 4, 2019


The celebrity clearly has a knack for taking up challenges, especially ones that require good physical reflexes. All we have to say is, keep 'em coming!

Have something to add to the story? Share it in the comments below.